Santa Monica Runway Plan Shorts Charters
Friday, November 10, 2017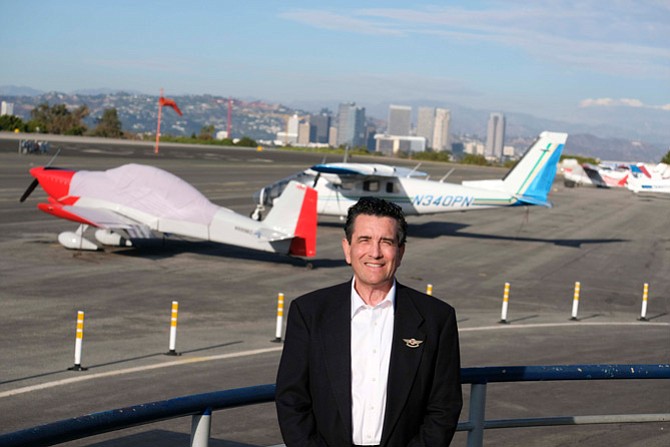 Santa Monica Airport's move to shorten its main runway by 30 percent will also drastically shorten the list of aircraft able to use it.
Roughly 44 percent of the jet flights that use the runway will no longer be able to do so after the work to reduce its length from 5,000 feet to 3,500 feet is complete in early January, according to Suja Lowenthal, senior advisor to the city manager for Santa Monica. Last year, there were 17,338 jet takeoffs and landings at the airport, according to a city report.
Aircraft that will not be able to use the runway – largely charter services planes providing corporate travel, will either have to fly out of other local airports or be switched out for smaller jets that can safely take off and land on the shorter runway.
"We have many companies based here in Santa Monica, West Los Angeles and Playa Vista that are going to have to balance things like how many people to send to conferences versus traveling farther to other local airports," said Dave Hopkins, chief executive of the Santa Monica Airport Association, an aviation group that is fighting the project.
The shortening work is the first step under an agreement the city of Santa Monica reached earlier this year with the Federal Aviation Administration to shut down the airport completely by the end of 2028.
The Santa Monica Airport Association filed suit in federal district court in Washington, D.C., to try to overturn the agreement; a decision is not expected until well into next year. The association last month won a temporary restraining order against the city, blocking it from proceeding with the runway shortening. But the restraining order was overturned within a week and the project went ahead with construction last month.
Aircraft can continue to use the full 5,000-foot runway length for the next few weeks, Lowenthal said.
But just before Christmas, the airport will shut down completely for 10 days as the runway is shortened. When the airport reopens shortly after New Year's Day, the runway will be at its new 3,500-foot length.
The runway shortening is not expected to have any impact on propeller aircraft, including prop-jets; last year, according to the city report, there were roughly 67,500 propeller aircraft takeoffs and landings, comprising about three-fourths of all airplane traffic.
Aviation advocates said the runway shortening will hit some airport users hard, primarily those with large jet aircraft that will have to be moved to other air fields.
Prev Next
For reprint and licensing requests for this article, CLICK HERE.