Style: Magic Management
Joe Furlow, Magic Castle
Friday, November 10, 2017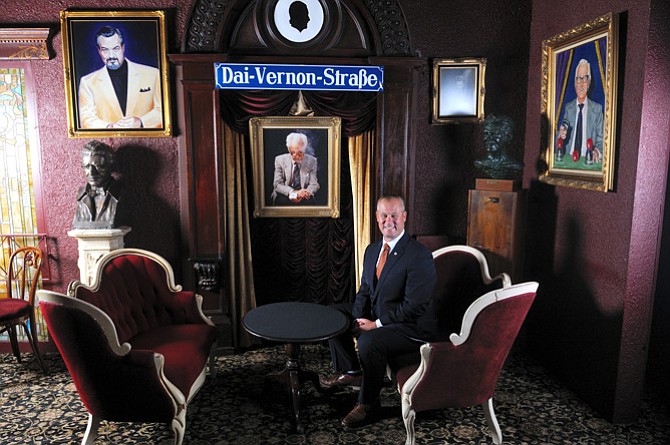 Joe Furlow is not a magician, but it took more than a little sleight of hand to bring Hollywood's venerable private magicians club Magic Castle back from the brink of insolvency in 2012, when Furlow became general manager of the Academy of Magical Arts, which oversees the club facility.
It's more a magical nightclub than a school for wizards, but Furlow, whose love of magic comes from his uncle, magician Paul Fidler, isn't about to dissuade legions of Harry Potter fans who would love to visit the Castle. That privilege comes only by invitation from a magician or associate club member.
"All of these tour companies, they always stop in our driveway and say this is the Hogwarts of Hollywood," Furlow said during a conversation at the club's Lobby Bar.
The club, founded by the late Bill Larsen Jr. and his brother Milt Larsen, and has always been a family affair. The brothers are the sons of William Larsen Sr., a Pasadena criminal attorney whose passion for magic led him to quit the practice of law to tour with his wife and sons as the Larsen Family of Magicians.
Bill Sr. died without ever realizing his dream to found a magicians' club. That job fell to Bill Jr. and Milt, who both gave up successful television careers to launch the Magic Castle, which opened its doors in 1963.
Its famous performers have included Dai Vernon, David Copperfield, Lance Burton and the magic duo Siegfried & Roy.
Still, magicians have a way of making things vanish, including money, and the club has had its share of financial difficulties. Furlow came on board as president while the club was reeling in the aftermath of a fire that broke out on Halloween night in 2011.
"We had less than $200,000 in the bank and a $130,000 payroll due the next day," he recalled.
The aid of actor and former Academy of Magical Arts Board President Neil Patrick Harris helped Furlow get the club back on solid financial footing, with plans to expand with a new kitchen and other conveniences. Still, the executive said he runs the 5,000-member club the same hands-on way its family founders did.
"When we open our doors, whether it's brunch or dinner, my office is me being down on the floor, whether it's guests I'm welcoming, or magicians," Furlow said. "We're welcoming more than 10,000 people a month in to our living room."
Furlow has an office space in the club, but he's more likely to be found discussing business over a cocktail at the club's Grand Salon or Owl Bars, or chatting up a magician at a cozy card table. Every nook in the Castle is filled with longtime tinkerer Milt's homemade gadgets, visual puns and artifacts he rescued from historic buildings facing the wrecking ball.

Another thing hasn't changed since 1963: The Magic Castle dress code of jacket and tie for men, dresses or pantsuits for women.
"I think the only person who has brought that up, whether we should change it, was actually Neil (Patrick Harris)," Furlow said. "I think the debate lasted about two minutes. If you dress classy, you are going to act classy. It's part of the magic."
– Diane Haithman
For reprint and licensing requests for this article, CLICK HERE.
Stories You May Also Be Interested In