Lift for LAX Office Market
REAL ESTATE: Airport projects help fuel demand
Friday, November 10, 2017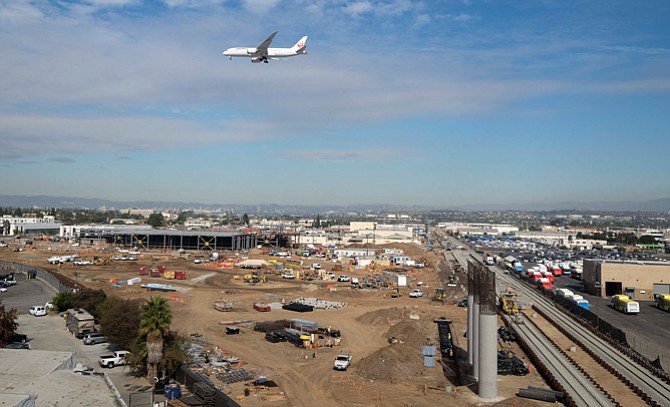 The office market along Century Boulevard near Los Angeles International Airport is about to take off, according to real estate brokers and property owners.
Real estate analysts familiar with the area just east of the airport's terminals and north of its runways said the tightening office market is being spurred by hotel conversions, office renovations, $14 billion in airport investment, new transit projects and demand from companies pushed out by Silicon Beach's rising rates.
Vacancies in the Century Boulevard Class A office market declined from about 30 percent in 2013 to about 22 percent in the third quarter this year, according to Chicago-based brokerage Jones Lang LaSalle Inc.
Key to this trend are the massive improvements in the works at and near LAX, which, along with new transit opportunities, are expected by industry watchers to enhance the marketability of the Century Boulevard submarket between Sepulveda and Aviation boulevards, which totals 1.4 million square feet of office space.
Los Angeles World Airports, the city agency that runs LAX, is investing $14 billion to modernize the airport and improve its traffic circulation – moves that stand to make the area more attractive for visitors and new neighborhood office tenants alike.
Metro also is planning a new transit station to connect to the people mover system two blocks north of the Century Boulevard submarket at Aviation Boulevard and 96th Street.
"All the investment and the many billions of dollars of new infrastructure is going to put a new shine on the neighborhood," said Paul Solomon, president of Liminal Space, a real estate development firm that recently acquired and renovated an office building on Century Blvd.
"All of that (airport investment) is very positive," said Tom Sheets, executive director in the South Bay office of Chicago-based brokerage Cushman & Wakefield. "It's something that Century Boulevard hasn't seen for several decades, so you would imagine that the Century Boulevard marketplace would benefit from these new capital intensive projects."
Jason Fine, an El Segundo-based senior vice president for JLL, said he anticipates LAX modernization efforts in the coming year will spur demand for 50,000 rentable square feet of new office space from engineering and related firms performing the work – about 3 percent of the overall market.
Property owners in the corridor have already renovated at least two older office properties between Sepulveda and Aviation boulevards, while three other office buildings have been converted to hotels in recent years.
Prev Next
For reprint and licensing requests for this article, CLICK HERE.