Lift for LAX Office Market
REAL ESTATE: Airport projects help fuel demand
Friday, November 10, 2017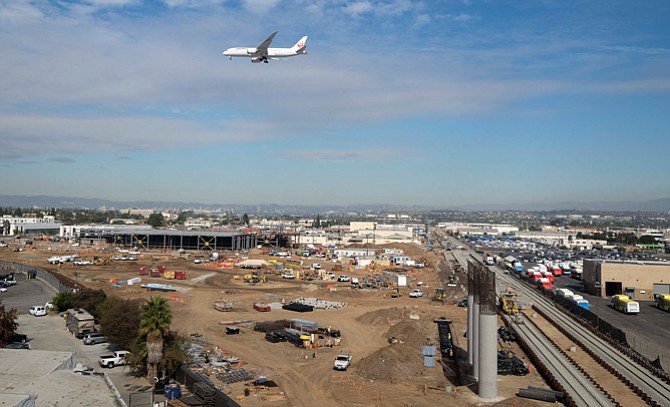 The office market along Century Boulevard near Los Angeles International Airport is about to take off, according to real estate brokers and property owners.
Real estate analysts familiar with the area just east of the airport's terminals and north of its runways said the tightening office market is being spurred by hotel conversions, office renovations, $14 billion in airport investment, new transit projects and demand from companies pushed out by Silicon Beach's rising rates.
Vacancies in the Century Boulevard Class A office market declined from about 30 percent in 2013 to about 22 percent in the third quarter this year, according to Chicago-based brokerage Jones Lang LaSalle Inc.
Key to this trend are the massive improvements in the works at and near LAX, which, along with new transit opportunities, are expected by industry watchers to enhance the marketability of the Century Boulevard submarket between Sepulveda and Aviation boulevards, which totals 1.4 million square feet of office space.
Los Angeles World Airports, the city agency that runs LAX, is investing $14 billion to modernize the airport and improve its traffic circulation – moves that stand to make the area more attractive for visitors and new neighborhood office tenants alike.
Metro also is planning a new transit station to connect to the people mover system two blocks north of the Century Boulevard submarket at Aviation Boulevard and 96th Street.
"All the investment and the many billions of dollars of new infrastructure is going to put a new shine on the neighborhood," said Paul Solomon, president of Liminal Space, a real estate development firm that recently acquired and renovated an office building on Century Blvd.
"All of that (airport investment) is very positive," said Tom Sheets, executive director in the South Bay office of Chicago-based brokerage Cushman & Wakefield. "It's something that Century Boulevard hasn't seen for several decades, so you would imagine that the Century Boulevard marketplace would benefit from these new capital intensive projects."
Jason Fine, an El Segundo-based senior vice president for JLL, said he anticipates LAX modernization efforts in the coming year will spur demand for 50,000 rentable square feet of new office space from engineering and related firms performing the work – about 3 percent of the overall market.
Property owners in the corridor have already renovated at least two older office properties between Sepulveda and Aviation boulevards, while three other office buildings have been converted to hotels in recent years.
Destination renovation
The changes began in 2015, Fine said, with the acquisition of a three-story, 88,000-square-foot office building at 6171 Century Blvd. by Solomon, who renovated the property with creative office space.
Solomon's firm is now headquartered in the building, which includes new amenity for the neighborhood, a bar called Sam First and Rinaldi's Deli sandwich shop.
"People are upgrading the buildings," Solomon said. "For a very long time there wasn't investment in the buildings on the boulevard and I think, in part, the investment has come because (rental rates have risen in) the surrounding markets like El Segundo Playa Vista and others."
Fine, who helped lease 6171 Century Blvd., said vacancy at that building went from about 70 percent prior to Solomon's acquisition to 100 percent occupancy today. Rates have gone up by $1.20 since the change in ownership.
"The average lease rate at the building was probably $1.40 a square foot per month and now it's averaging $2.60," Fine said.
Solomon also credits fellow developer Bob Ruth, president of Ruth Group, with helping provide a boost through his company's recent acquisition of 5901 Century Blvd. in May. The company finished renovating the property with creative office space in September.
"LAX is going to be phenomenal and memorable for all of us in Southern California, especially with the new public transportation," Ruth said. "When you look at all the exciting things going on with the nearby football stadium and transportation, this whole corridor is really becoming a viable alternative for everybody in Southern California."
Fine said 5901 Century Blvd. is 65 percent leased, a rise from a 48 percent space vacancy prior to the Ruth Group acquisition.
Leasing is now $2.25 (a square foot per month) to $2.50 from about $1.75 a year ago, Fine said.
Hotels landing
The conversions from office buildings to hotels, also driven by the airport-related investment, are also pushing up office rents, experts said.
A conversion at 6151 Century Blvd. shared by two hotels, Homewood Suites by Hilton Los Angeles International Airport and H Hotel Los Angeles, Curio Collection by Hilton, opened last month.
"It's hard to ignore fact that they're putting $14 billion into LAX," said Hannah Greenberg, vice president of development for Newport Beach-based Seaview Investors, which owns the building. "The number of demand generators is growing. There are new businesses entering the greater market."
The new hotels and renovated offices are bringing in new amenities, such as higher end bars and restaurants that, in turn, can attract office tenants to move to the area, experts said.
Diverted traffic
Another major factor is rising office prices in surrounding markets.
El Segundo and Playa Vista have provided an alternative to pricey Silicon Beach office space, but even those rates are increasing, forcing companies to look elsewhere, Fine said.
"Everybody used to look at either Silicon Beach or El Segundo, and now Century Boulevard is being competitive and the offices are being converted to open work space that is attractive to the new tech companies," said Laurie Hughes, executive director of the GatewayLA airport business improvement district.
Meanwhile, just 4 miles east of the airport and the Century Boulevard real estate pocket, construction is ongoing for Los Angeles Stadium at Hollywood Park in Inglewood, expected to open in the fall of 2020 as home for the Los Angeles Rams and Los Angeles Chargers NFL teams. The $2.6 billion project is expected to create residential investment and gentrification in surrounding neighborhoods.
For reprint and licensing requests for this article, CLICK HERE.