Hollywood Ad Shop Takes 31,500 SF in Park Mile
Deal calls for creative office space as part of Harbor Building makeover
Friday, November 10, 2017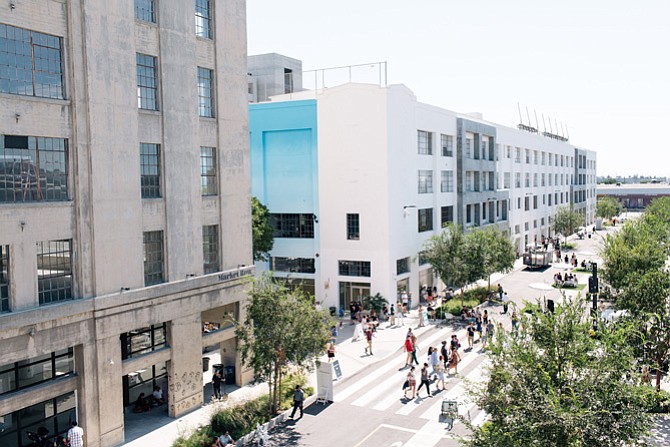 Hollywood-based entertainment advertising agency Concept Arts has signed a long-term lease for about 31,500 square feet of space at the Harbor Building at 4201 Wilshire Blvd. in the Park Mile submarket of the Wilshire Corridor, according to the building's owner, Koreatown-based Jamison Properties.
Concept Arts, which has been involved with marketing films such as "La La Land," "Moonlight," "Dunkirk" and "Wonder Woman," will relocate its headquarters from 6422 Selma Ave. in Hollywood to the Harbor Building in early 2018, Jamison said.
Asking rent at the Harbor Building averages around $2.75 per square foot per month, according to CoStar Realty Information Inc.
Terms of the lease call for Jamison to build out the majority of the fifth floor to suit the award-winning agency's office requirements. The high-end creative office space will include a combination of private offices, meeting rooms, a photo studio, collaborative work spaces and soundproofed editing rooms.
The six-story Harbor Building, built in 1958, is undergoing a capital improvement program that includes a new building and elevator lobbies, corridors, restrooms, creative office spec suites and automated parking systems.
Beverly Hills-based First Property Realty Corp. broker Ben Silver and President Jeffrey Resnick represented Jamison in the transaction. Concept Arts was represented by Marc Bretter, a principal in the Brentwood office of Cresa Partners.
L.A. Firm Makes O.C. Buy
Westwood-based Unimat Commercial Inc. recently acquired the 204,523-square-foot Triangle entertainment center at the end of the 55 freeway in Costa Mesa for $55 million, or $269 per square foot.
Unimat is an affiliate of Cannon Commercial Inc., a privately held owner and operator of office, retail, multifamily, and industrial properties.
Irvine-based Greenlaw Partners sold the center, which it had owned for five years in a venture with financial partners Westbrook Partners in New York and Walton Street in Chicago. They acquired the property for $15 million in 2012 after it was plagued by vacancies for several years under various ownership groups.
The new owners spent $25 million in 2012 and 2013 to renovate the center and refocus it from traditional retailers to more "point of destination" tenants, such as entertainment sports, bars and restaurants.
The property was about 95 percent occupied at the time.
Some tenants now generate monthly sales in excess of $600 per square foot, according to marketing documents from CBRE Group Inc., which first listed the property for sale last year.
ARC on Row DTLA
Row DTLA sees itself as more than just a business hub of boutique shops and startups, but also a socially conscious and creative community of tenants.
The latest such addition is downtown-based Anti-Recidivism Coalition, a support and advocacy network for formerly incarcerated young people, which has leased 12,623 square feet of office space there for its new home.
ARC offers reentry services, including education and employment assistance, supportive housing and trauma counseling. The group, which assists more than 400 formerly incarcerated young people across the state, is expected to move to its new home at the end of the month.
A statement from Scott Budnick, ARC's founder and president, said the organization chose to locate at Row DTLA because of the community of creative tenants at the site. The 30-acre former industrial property recently renovated to house creative office space, retail, dining and public gathering space. Among them is Mitú, a digital media company that aim to bring a Latino point of view to mainstream entertainment.
Creative companies such as Mitú "are already tenants, and the prospect of a slew of other innovative companies and start-ups, as well as exciting stores and restaurants, made this location obvious – but our decision ultimately rested on shared values held by ownership and team at the Row," Budnick said.
Row DTLA is a project of New York-based developer Atlas Capital.
Staff reporter Neil Nisperos can be reached at nnisperos@labusinessjournal.com or (323) 556-8337. Mark Mueller of the Orange County Business Journal contributed to this report.
For reprint and licensing requests for this article, CLICK HERE.