Do Hotels Have Room for Airbnb?
Friday, November 10, 2017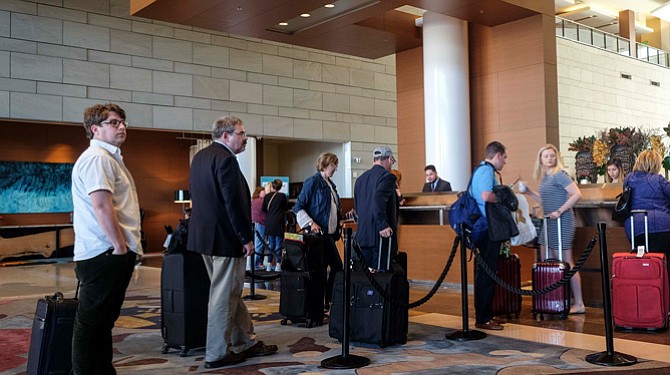 Last year's record 81.3 percent hotel room occupancy rates in L.A. County suggests that short-term rentals haven't taken the toll that the hospitality industry feared, tourism officials say.
But some worry that could change even as a flurry of new hotels open.
Jeff Zarrinnam, Chief Executive of the Hollywood Hotel, estimated that up until September, his revenue per available room has increased approximately 5 to 8 percent year over year for the past five years or so.
It missed expectations in September, though, and Zarrinnam said it looks the same for October.
"Something is happening," he said. "This is the very first inkling. It's going to come, maybe even six months down the road, and other hotels will say, 'Hey, there's an effect.'"
Ernest Wooden Jr., Chief Executive of the Los Angeles Tourism & Convention Board, told the crowd at a Central City Association meeting last month that short-term rentals had been helpful in some ways.

"The short-term [factor] is here to stay," said Wooden. "Our hotels have experienced such high occupancy – in fact, Airbnb is part of the accommodations infrastructure in LA because hotels don't have room."
A followup email from Wooden said that Airbnb appeared to have had a minimal impact on hotel occupancy last year. LA Tourism hasn't yet released its numbers for this year.
"If there was an impact" frmm Airbnb "it would be at the margins," wrote Wooden. "Fast-forwarding to present day and looking at the influx of new hotel supply in LA, we do expect a short-term negative impact on city-wide occupancy as new hotel supply is absorbed."
About 17 or 18 hotels are in the pipeline for Hollywood alone, said Zarrinnam, who is the chair of the Hollywood Chamber of Commerce. The increased competition from new hotels and short-term rentals could affect room prices, Zarrinnam said. In addition to record occupancy, last year saw a county record for average daily room rates of $171.95, the highest since 2005, according to data from L.A. Tourism.
"As more hotels come online, there's more supply," he said. "It's basic economics. Airbnb is also more supply that wasn't there before."
Start of the stay
Airbnb first entered the L.A. market around 2008, according to spokeswoman Mattie Zazueta.
While various municipalities in the area have made their own rules, the city of Los Angeles, which includes Hollywood, remains one of few major metro areas which hasn't set regulations for short-term rentals, although Airbnb recently began paying transient occupancy tax.
Prev Next
For reprint and licensing requests for this article, CLICK HERE.