Toebben To Retire as Head of L.A. Chamber
Thursday, November 9, 2017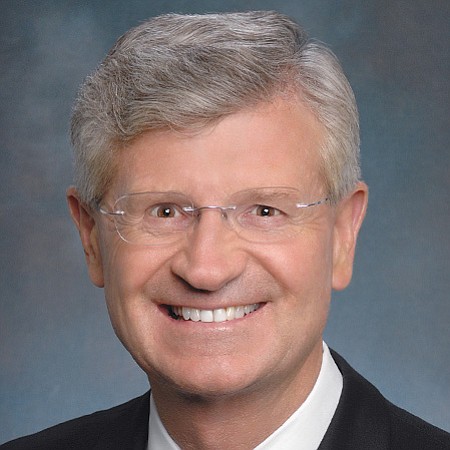 Gary Toebben, the longtime chief executive of the Los Angeles Area Chamber of Commerce, announced his retirement on Thursday, effective next July.
Toebben, 69, has been at the helm of L.A.'s largest business group for 12 years, capping a 43-year career as a chamber executive.
"Serving as President and CEO of the Los Angeles Area Chamber of Commerce has been the capstone of my 43 years in the chamber profession," Toebben said in a statement. "Every day in Los Angeles has been an honor to work side-by-side with a talented and dedicated staff, and a board of directors and members who care so much about the future of the City and County of Los Angeles."
Toebben steered the L.A. chamber through a steep membership decline and subsequent recovery from the 2008-09 recession, strengthened the influence of the chamber's political action committee, created the Bixel Exchange to support local tech entrepreneurs, established a center for global trade and foreign investment and expanded the Southern California Leadership Network to help prepare future civic leaders.
On the policy front, Toebben co-sponsored a statewide ballot measure to change the way districts are drawn for legislative offices, including setting up a citizen's redistricting commission, and led an effort with the L.A. County Federation of Labor to revamp term limits for state lawmakers. He also led business community support for the massive $14 billion modernization plan for Los Angeles International Airport and for several ballot measures to raise sales taxes to accelerate local transportation projects.
Toebben said in an interview that over the next eight months he plans to focus on making sure that more affordable housing gets built throughout Los Angeles County; he championed last year's city ballot measure HHH and county ballot measure H to set aside dollars for homeless housing projects and homeless services. He said he also will try once more in the state Legislature next year to push for reform of the state's California Environmental Quality Act, which he said has become an obstacle to building more housing.
Chamber Chairman Steven Nissen, senior vice president of legal and government affairs for NBCUniversal, said in the chamber's statement that the board had set up a search committee to conduct a nationwide search for Toebben's replacement. The committee will be led by 2018 board chair designate Michelle Kerrick of Deloitte and 2019 board chair designate Jerry Neuman of DLA Piper.
"Gary has provided great leadership to the chamber and he has prepared us well for the next chapter of the chamber's mission," Nissen said in the statement.
The chamber hired Toebben in late 2005 to replace the late Russell "Rusty" Hammer, who was forced to step down for health reasons. Prior to his tenure in Los Angeles, Toebben served as chief executive for several chambers in the Midwest over a 27-year period.
Economy, education, energy and transportation reporter Howard Fine can be reached at hfine@labusinessjournal.com. Follow him on Twitter @howardafine.
For reprint and licensing requests for this article, CLICK HERE.