Puma Biotech Gets $100M Loan to Boost Breast Cancer Drug
Friday, November 3, 2017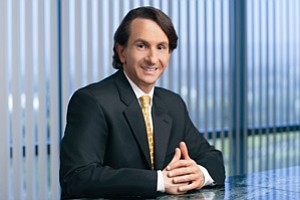 Puma Biotechnology has received up to $100 million in term loan funding to support the research and sale of a breast cancer drug approved this summer, company officials announced.
The West Los Angeles biotech company obtained the loans late last month from Silicon Valley Bank and Oxford Finance in two funding tranches.
An initial $50 million tranche closed Oct. 31 and will be used for general corporate purposes and to commercialize Nerlynx, previously known as neratinib, a once-a-day pill administered after breast cancer surgery. It was approved by the U.S. Food and Drug Administration in July.
A second $50 million tranche may be drawn subject to the achievement of certain milestones. The loan will mature in October 2022.
"The proceeds from this financing will be used to continue to support the Nerlynx commercial activities as well as ongoing research with neratinib" for other uses, Alan H. Auerbach, Puma's chief executive, said in a statement. "This will allow the company to continue the momentum that we have experienced this year into 2018 and beyond."
Puma spent hundreds of millions of dollars to develop its drug for adults with early stage HER2 breast cancer.
Puma shares rose after the loan was announced Thursday, climbing nearly 3.6 percent by midday Friday to $130.75, up 281 percent year-to-date. The company's market cap is nearly $4.9 billion.
The funding announcement came the same day a former Puma executive pleaded guilty to federal insider trading charges, according to Reuters.
Robert Gadimian, the company's former senior director of regulatory affairs, pleaded guilty in federal court in Boston to seven counts of securities fraud over illicit trades ahead of announcements by the biopharmaceutical company about its cancer treatment that prosecutors said allowed him to earn more than $1 million.
Under a plea deal, Gadimian, 47, of Burbank, agreed not to appeal any prison sentence of more than 37 months. He also agreed to the entry of a judgment against him that would require the payment of more than $1.16 million.
According to prosecutors, he secretly traded Puma stock from 2013 to 2014 based on confidential information he learned about positive developments in two clinical trials for neratinib.
Health business reporter Dana Bartholomew can be reached at dbartholomew@labusinessjournal.com. Follow him on Twitter @_DanaBart.
For reprint and licensing requests for this article, CLICK HERE.