Game, Girls
Local marketing companies target Gen Z influencers
Friday, November 3, 2017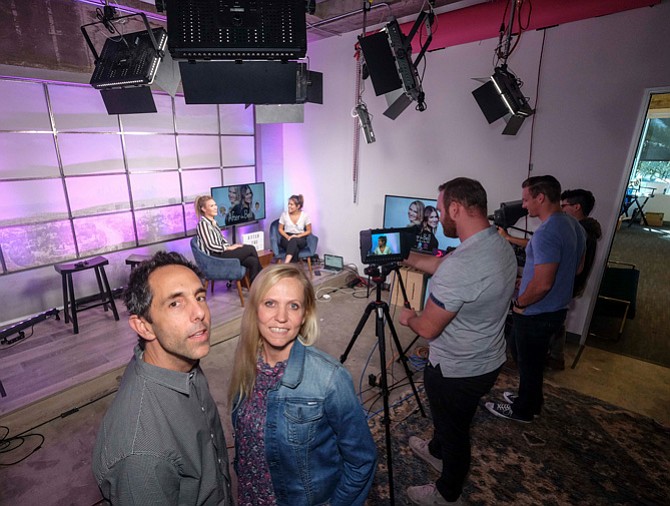 Generation Z girls are the focus of complex new corporate campaigns intended to win over the demographic as it becomes the most coveted U.S. consumer segment.
This group, which includes girls born in the mid-1990s through the early 2010s, is already making waves in the market, and advertisers and content creators in Los Angeles are fighting to both appeal to and shape their tastes.
Media and marketing companies including Clique Media Group of West Hollywood and Marina del Rey-based Sweety High are stepping in to build a business model largely focused on marketing to Gen Z girls and young women.
The companies and other experts said girls are increasingly involved in making both personal and major household consumer decisions.
"I don't think (girls) are part of the decision," said Veronica Zelle, co-chief executive of Sweety High whose career has included producing music videos for Justin Timberlake and Britney Spears. "I think they are the decision."
Sweety High goes more niche by specifically targeting girls ages 8 to 18. Clique is also female-focused in the content it produces, with numerous fashion and beauty clients, but targets the ages 14 to 22 demographic.
Frank Simonetti, Sweety High co-chief executive, joked that no one understood why the company would cut off half of its potential clientele by focusing on female consumers when the company was founded in 2009. Simonetti said the mega-popularity of pop star Justin Bieber and the "Twilight" books and movies among young women solidified the company's belief that girls rule the Gen Z market.
The Sweety High execs said girls also become social animals sooner than boys and therefore wield more power when it comes spreading the word via social media.
The overall Gen Z market is already huge and growing quickly. A National Retail Federation and IBM study released this year estimated Gen Z has $44 billion in buying power and will comprise 40 percent of the total consuming population by 2020.
Sweety High executives said the company's growth reflects the power of the Gen Z market, with clients including NBCUniversal, PepsiCo, Walmart Stores Inc. and Nickelodeon. The company's revenue grew 400 percent from 2016 to 2017, with the volume of deals increasing at a similar rate, Simonetti said, though he didn't disclose dollar figures.
Katherine Power, chief executive of Clique, said the demographic is still being dissected.
"Everyone is trying to understand Gen Z, the next generation to have disposable income," she said. "Even if you are consistently going after the same age demographic as the generations cycle through, one generation is very different from the next."
Beth Hayes, vice president of merchandising for San Francisco cosmetics company Sephora USA Inc.'s Sephora Collection, partners with Clique's College Fashionista media platform, creating events such as a beauty road trip to several U.S. college campuses.
"We value the Gen Z audience enormously and are dedicated to seeking out experiential moments to interact with them in a meaningful way," Hayes said in an e-mail. "Through our partnership with College Fashionista, we are able to engage with college students in the context of things they're truly passionate about."
Power plays
Taking advantage of the power Gen Z girls wield means finding out and shaping what's important in their world.
That's the aim of the What's Trending segment on "After the Bell," a new after-school series co-produced by Sweety High and Musical.ly, a Santa Monica-based video social network company. The show airs live from 3 to 3:45 p.m. Monday through Friday on Musical.ly's app.
The show also features Gen Z-friendly guests and performers, including singer Maty Noyes, YouTube performer Dani Augustt and actress Riele Downs, star of Nickelodeon's "Henry Danger." The on-site content studio even includes a pull-down background perfect for selfies, in a cheery shade of pink. Sweety High also features flat and video content on its website.
At a recent taping, the show's co-hosts, Taylor Audette, 27, and Cassie DiLaura, 24, were in the midst of an intense discussion about Yahtzee. No, not the dice game familiar to baby boomers, but about borrowing the word for Gen Z conversation, to mean something good just happened. Example of Gen Z use:
"I just convinced Mom and Dad that I really need the new iPhone8 to do research for my chemistry class. Yahtzee!"
It's doubtful a new usage for the word Yahtzee will upend global commerce in 2017, but companies' desire for a "Yahtzee" reaction from Gen Z customers is palpable, according to Jennifer Floto, a public relations professor at USC and a veteran marketing and PR practitioner.
Gen Z's economic influence, she said, has gone beyond the "nag factor" advertisers sought from previous generations of kids introduced to products via TV commercials. Internet access has created a nation of junior experts on high-ticket items such as travel, live entertainment and technology, instead of just Gen Z-oriented products, such as clothing, cosmetics or snack foods.
"The other thing the kids are really influencing is the plans that you use for your phone, your Wi-Fi, your television streaming," Floto said. "It used to be, Mommy, Daddy, can we have another TV besides in the living room? Now it's … Mom, Dad, we don't want to have cable anymore. We want to cut the cord. They are influencing as huge an expense in the home as the cable bill."
Data dive
Ilse Metchek, president of downtown's California Fashion Association, watches the behavior of Gen Z fashionistas and described young consumers as totally fractured, with not only age differences but regional differences.
"What is going to work in Miami is not going to work in California, New York, or Chicago," she said.
Metchek said Gen Z marketing companies play an important role in fast-changing culture that can no longer rely on last year's sale figures to predict the future. Still, she believes such companies won't last if they put too much focus on providing content that appeals to kids. Metchek wants the numbers.
"If that's all they are doing, being an entertainment vehicle for a brain dead 15-year-old, that's tiresome," she said. "They (retail companies) are looking for the data. If I'm a company, I want to subscribe to your site analytics. Data gathering is what it's all about. If they are not there yet, it's just another MTV."
Both Sweety High and Clique Media Group pride themselves on the demographic research and data analytics their companies can provide to clients. Still, Zelle said providing content such as "After the Bell" is an important Yahtzee for Gen Z.
"We work with brands to deliver the message," Zelle said. "If you just make a young girl feel special, she will love you forever."
For reprint and licensing requests for this article, CLICK HERE.