Macerich Taking Offers for Westside Pavilion
Thursday, November 2, 2017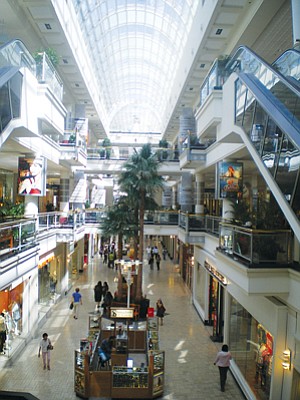 Santa Monica real estate investment trust Macerich Co. is entertaining offers for the Westside Pavilion, company officials said during the company's earnings call Tuesday. Tom O'Hern, Macerich's chief financial officer, said the REIT had been contacted by developers interested in acquiring the mall, which has suffered from declining revenue.
"If I had to prognosticate what will happen there, my guess is that within a year or less we will no longer own the asset because somebody will have an idea to do either a mixed-use or totally nonretail use there that will likely be the highest, the best use for a great piece of real estate and that will result in us getting value from it that we otherwise couldn't get in holding it as a retail facility," O'Hern said in a transcript of the call provided by Seeking Alpha.
Close to a station on the recently opened Expo line, the mall falls in an area the city is considering for a new, denser zoning classification.
O'Hern said the company was current on a $142 million loan on the property, which was transferred for special servicing last month pending imminent default.
He also said Macerich had reached an agreement that it expected to close next month for a $300 million loan for its Santa Monica Place.
The company came in at No. 10 on the Business Journal's list of largest public companies this year with a market cap of $8.23 billion as of June 30.
Retail, restaurants and hospitality reporter Caroline Anderson can be reached at canderson@labusinessjournal.com. Follow her on Twitter @caroline_mander.
For reprint and licensing requests for this article, CLICK HERE.