Making L.A. Work
ECONOMY: Icons talk industries, culture.
Friday, May 26, 2017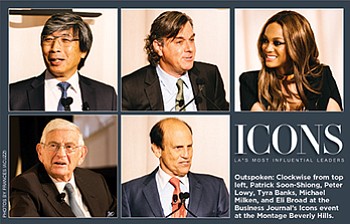 From Patrick Soon-Shiong's plan to open an L.A. cancer center to the transformation of Westfield Corp.'s malls, the Business Journal's premiere Icons event last week gave a glimpse of the region's economic and cultural future.
About 200 attendees gathered at the Montage Beverly Hills to hear biotech billionaire Soon-Shiong, Westfield co-Chief Executive Peter Lowy, supermodel and entrepreneur Tyra Banks, and billionaire philanthropists Eli Broad and Michael Milken share their visions for their endeavors and Los Angeles.
Perhaps the biggest news of the morning was provided by Soon-Shiong, 64, founder and chief executive of health care technology company NantWorks, who announced he would open a cancer treatment center this summer. The U.S. Food & Drug Administration authorized a NantWorks subsidiary and publicly traded NantKwest Inc. earlier this month to begin clinical trials of a cancer vaccine.
"We have a great basketball team in the Lakers, we have a great newspaper in the L.A. Times – I'm trying with both," said Soon-Shiong, who has ownership stakes in the sports team and the newspaper's parent company, tronc Inc. "What we don't have is a great cancer center."
Soon-Shiong, who topped the Business Journal's list of Wealthiest Angelenos for the ninth consecutive year with a net worth estimated at $18 billion, said he had kept the news under wraps because of the amount of demand he anticipated.
Several attendees, many of them business leaders and visionaries in their own right, said they were in awe of the doctor's cancer-fighting efforts.
"Patrick Soon-Shiong blew my mind and gave me hope," said Andy Lipkis, president of Beverly Hills environmental nonprofit TreePeople.
Lipkis added the event was not what he expected of a business gathering.
"I was beyond inspired by the picture created, by the compassion for human life," he said.
Westfield's new look
Westfield's Lowy, 58, also had some news to share. After touching on the havoc e-commerce has wreaked on the retail and mall industry, Lowy confirmed that Amazon.com will open a store at Westfield Century City as part of the mall's $1 billion renovation. The e-commerce giant has stores at other Westfield properties and locations.
"They came to us because of the assets we're building," Lowy said.
The retail challenges forced Westfield to change its Century City leasing plan from what it originally drafted two years ago, according to Lowy. Only 45 percent of the stores will be fashion, compared with the 90 percent he said was traditional for malls. Food retail, which will include 10 restaurants, making up a quarter of the renovated mall's stores.
For reprint and licensing requests for this article, CLICK HERE.
Prev Next