Making L.A. Work
ECONOMY: Icons talk industries, culture.
Friday, May 26, 2017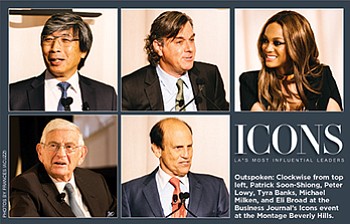 From Patrick Soon-Shiong's plan to open an L.A. cancer center to the transformation of Westfield Corp.'s malls, the Business Journal's premiere Icons event last week gave a glimpse of the region's economic and cultural future.
About 200 attendees gathered at the Montage Beverly Hills to hear biotech billionaire Soon-Shiong, Westfield co-Chief Executive Peter Lowy, supermodel and entrepreneur Tyra Banks, and billionaire philanthropists Eli Broad and Michael Milken share their visions for their endeavors and Los Angeles.
Perhaps the biggest news of the morning was provided by Soon-Shiong, 64, founder and chief executive of health care technology company NantWorks, who announced he would open a cancer treatment center this summer. The U.S. Food & Drug Administration authorized a NantWorks subsidiary and publicly traded NantKwest Inc. earlier this month to begin clinical trials of a cancer vaccine.
"We have a great basketball team in the Lakers, we have a great newspaper in the L.A. Times – I'm trying with both," said Soon-Shiong, who has ownership stakes in the sports team and the newspaper's parent company, tronc Inc. "What we don't have is a great cancer center."
Soon-Shiong, who topped the Business Journal's list of Wealthiest Angelenos for the ninth consecutive year with a net worth estimated at $18 billion, said he had kept the news under wraps because of the amount of demand he anticipated.
Several attendees, many of them business leaders and visionaries in their own right, said they were in awe of the doctor's cancer-fighting efforts.
"Patrick Soon-Shiong blew my mind and gave me hope," said Andy Lipkis, president of Beverly Hills environmental nonprofit TreePeople.
Lipkis added the event was not what he expected of a business gathering.
"I was beyond inspired by the picture created, by the compassion for human life," he said.
Westfield's new look
Westfield's Lowy, 58, also had some news to share. After touching on the havoc e-commerce has wreaked on the retail and mall industry, Lowy confirmed that Amazon.com will open a store at Westfield Century City as part of the mall's $1 billion renovation. The e-commerce giant has stores at other Westfield properties and locations.
"They came to us because of the assets we're building," Lowy said.
The retail challenges forced Westfield to change its Century City leasing plan from what it originally drafted two years ago, according to Lowy. Only 45 percent of the stores will be fashion, compared with the 90 percent he said was traditional for malls. Food retail, which will include 10 restaurants, making up a quarter of the renovated mall's stores.
"We have 90 stores which are new to Westfield or L.A.," Lowy said. "We're replacing the old retailers which haven't updated with new retailers who are coming into L.A."
Mark DiNapoli, chief operating officer at downtown's Suffolk Construction, said he found Lowy's discussion of the market forces helpful, noting that his company was working with Westfield on its San Diego mall.
"Our work is directly derived from those types of re-positionings that are occurring," DiNapoli said. "For me, it sort of supports our strategy as a commercial construction company to really follow those opportunities closely."
Tyra Banks' brand
Lowy may be getting another high-profile tenant. Banks, a former supermodel and television producer, said she is developing an interactive, experiential concept based on her personal brand.
She told the audience she planned to meet with Lowy's team this year to discuss the concept, which she wants to cement her legacy.
"What I'd love is 30 years from now, some young girl will be at a Westfield mall – or a competitor of Westfield, if that meeting doesn't go well – and be experiencing a wonderful experience, feeling so beautiful because of what I and my team have created," said Banks, 43. "She doesn't know who Tyra is, and she doesn't care. But her mother and grandmother do."
Eva Wang, co-chief executive of downtown's VXI Global Solutions, a business processing outsourcing firm that employs 28,000 worldwide, said she was particularly impressed with Banks, who discussed her experience teaching a course in personal branding at Stanford University last year.
"Tyra Banks – how to brand, leave a legacy – she has an interesting point of view," Wang said.
Photos from The 2017 ICONS, May 2017 can be found here.
Reinventing the museum
Broad, founder of both KB Home and SunAmerica who with his wife Edythe has become a leading art collector, discussed the origin of his eponymous museum while being interviewed by Lilly Tartikoff Karatz, a champion of breast cancer research and the wife of Bruce Karatz, former chief executive of homebuilding company KB Home.
"I wanted to reinvent the American museum and make it more friendly," Broad, 83, said. "Most museums are not friendly places for the average American to go."
Broad, who ranked fifth on the list of Wealthiest Angelenos this year, attempted to achieve that goal both through the building's architecture and by choosing not to have security guards, opting instead for employees who engage with visitors.
Since opening in September 2015, the downtown museum, which has free admission, has received 1.2 million guests, he said. The Broad's visitors are 13 years younger on average than the usual museum's, which he held up as proof that he'd met his goal.
"People who do not normally go to museums are lined around the block," he said.
Financing the future
Perhaps the most well-received speaker was Milken, the former Wall Street financier and founder of Santa Monica's Milken Institute.
Milken relied on historical and business data to argue that L.A.'s economy has moved from oil production to bioscience and digital technology, highlighting e-sports companies Riot Games and Activision Publishing Inc., as well as Kite Pharma Inc. Each are located on the Westside, and Milken has invested in the Santa Monica cancer drug developer.
"This century is not defined by our natural materials," Milken, 70, said. "It's defined by the microchip. The new infrastructure doesn't look like the old infrastructure. The most valuable real estate generally ends in 'dot-com' today."
Gary Michelson, a former surgeon who now heads Karlin Asset Management Inc. and ranks No. 39 on the list of Wealthiest Angelenos, agreed with Milken's assessment that biotechnology was a key to the region's ongoing success, but had doubts that the political will was in place to nurture it.
"The problem as I see it is the state, the county, and the city don't really want to create the infrastructure or help support the creation of the infrastructure," he said. "If they were to allocate some resources it would be like planting corn and harvesting the corn. … All these politicians talk about is creating jobs, and there is good data out there that one scientist creates 10 jobs around that person. They all talk about something and they do nothing."
Milken also spoke passionately about the need to innovate ways to raise capital to eradicate poverty. He attributed his interest to an exchange he had as a 19-year-old during the Watts Riots in 1965 after going to downtown to view the damage.
"I met a guy who was married and had a child," he said. "It made me think, why did he not defend his job? He told me his father didn't have access to capital because he was African American."
When Milken returned to UC Berkeley, where he was enrolled at the time, he switched the focus of his studies from math to credit and finance, he said.
Milken's presentation drew a standing ovation, and a handful of attendees described his talk as the highlight of the event.
Jason Nazar, co-founder and chief executive of Santa Monica online salary transparency platform Comparably, said he thought all Angelenos should hear Milken's message.
"His historical point of view of how L.A. has changed from an oil-based economy, and how we maybe missed the opportunity to be at the forefront of technology, but how L.A. can still be at the forefront and make a lot of change in the world," said Nazar, whose company has raised almost $14 million since its founding in 2015.
Nazar added that he hoped the event would become a recurring feature.
"The lineup of speakers was incredible," Nazar said. "I think it was really valuable."
For reprint and licensing requests for this article, CLICK HERE.