City's Take on Sustainability May Buoy Businesses
HOUSING: Construction, design firms get green light with Santa Monica policy.
Friday, May 19, 2017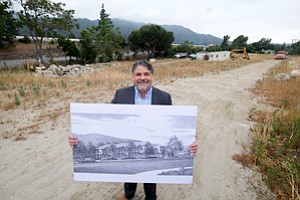 Homebuilders in Santa Monica are about to be seeing green – in more ways than one.
A law that went into effect May 1 requires all new single-family construction in the city to be zero net energy, making Santa Monica the first city in the country to enact such a measure.
Practically speaking, houses in the city must produce as much energy through renewable resources as they consume in one year. Such a mandate requires designing a property in an energy-efficient manner that limits usage of heating and cooling systems as well as installing energy-efficient appliances, according to industry experts.
Such features can be costly. Mandates, droughts, and consumer desire have helped boost the growth of green building in the state, which has been good news for vendors that supply the expertise, materials, technology, and corresponding services that help developers comply with the law and their own goals to create sustainable properties.
Whether those costs will pay off for homeowners is a different story.
For example, solar panels would have to be added to new homes in order to meet the rules established by the city of Santa Monica, said J.R. DeShazo, director of UCLA's Luskin Center for Innovation. Equipping a new house with panels costs between $8,000 to $12,000 on average when factoring in tax credits and rebates, he said, estimating it would take six to nine years for homeowners to recoup their investment in the form of lower energy bills.
Architect James Meyer, principal of downtown L.A. design and construction services firm Lean Arch Inc., said he's seen more demand for sustainable design components in new construction projects.
"Clients will pay a little bit of a premium to have an architect or design firm that is willing to look at alternative (environmental) ideas and things to bring to the project," he said. "A lot of times that translates to cost savings down the road."
Rising tide
Demand for sustainable features is expected to grow. California implemented the nation's first mandatory green building code, the California Green Building Standards Code, in 2010. It is updated every three years, with tougher requirements that limit waste and the consumption of electricity, water, and gas. The state Public Utilities Commission adopted a strategic plan for all new residential construction in 2008, requiring that new houses be zero net energy by 2020 and all new commercial construction to achieve the same by 2030.
Prev Next
For reprint and licensing requests for this article, CLICK HERE.