Range of Firms Looks to Ride Rail-Line Contracts
TRANSPORTATION: Tutor Perini, Parsons among takers of $1 billion in local projects.
Friday, May 19, 2017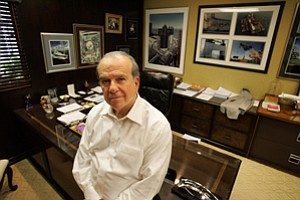 While not a single piece of earth has been turned over in Los Angeles County for the $64 billion California high-speed rail project, scores of local companies are already reaping more than $1 billion from the controversial plan.
Two major L.A. engineering and construction firms form the majority of the prime contracting team on the first 32-mile segment of the rail project, which after nearly two years of delays is now under construction in the Central Valley. Tutor Perini Corp. of Sylmar has a 50 percent stake in the $1.3 billion contract, and Parsons Corp. of Pasadena, has a 25 percent stake.
They are among the dozens of other local companies large and small that have won contracts for everything from preliminary design and land acquisition services to construction materials and equipment supply. Forty-six small businesses either headquartered in the county or with significant offices here have received high-speed rail contracts and subcontracts, according to data obtained from the California High Speed Rail Authority.
"The sheer size of this rail project puts it in the top echelon of projects for contractors and workers alike," said John Hakel, executive director of the Southern California Partnership for Jobs, a nonprofit comprising contractors and labor unions that promotes infrastructure development for the region.
Even as the contracts spread to L.A.-area firms, however, doubts and controversy continue to plague the massive project, both on a statewide level and in Los Angeles, where a dispute over the route in the northeast San Fernando Valley has been brewing.
"This bullet train is an enormous, misguided, and wasteful expenditure California cannot afford and can't even calculate accurately," Russell Goldsmith, chief executive of City National Bank and chairman of RBC's U.S. wealth management business, said in a statement. "California should instead be investing in more urgent and productive priorities like its water and transportation infrastructure, its public schools and universities, and its pension and health care requirements."
Ron Tutor, chief executive of Tutor Perini, which has close to 500 people working on the first segment, a Fresno to Madera branch that is slated to be completed by the summer of 2019, took issue with Goldsmith and other critics of the rail project, saying it is vital to close the U.S. infrastructure gap.
"Everybody agrees that our infrastructure is woeful and pathetic when compared with other parts of the world, and this project will help us catch up," he said.
Still, critics persist. Republican legislators have continually backed measures to either place a repeal initiative on the ballot or scrap other state funding for the project, though none of those measures has moved forward. A recent legal challenge was defeated when a tentative court ruling allowed the state to spend $1.25 billion in voter-approved bond money.
Topping all of this off, the authority's chief executive, Jeff Morales, stepped down last month after five years.
Lining Up
Meantime, local companies remain bullish on the project.
"We have bid and will continue to bid on every area of this project that's available," Tutor said.
Also working on the project are downtown engineering giant Aecom and G&C Equipment Corp.
According to Gene Hale, president of G&C, a 23-employee Gardena construction equipment supply firm, this project has helped boost his firm's profile, even if he has only five people working on a subcontract for the first segment. He said the work is valued at $10 million to $20 million.
Aecom has won several design and route study contracts for the rail line over the past decade worth a cumulative total of well over $100 million, including a current $32 million contract to study the route through the Altamont Pass between Oakland and Stockton.
The high-speed rail line is among a number of massive infrastructure projects either under way or in the works in the region. There is also a $2 billion-plus football stadium under construction, a project with which Aecom is involved.
"It's a golden time for folks in the construction industry to use as much manpower as they can get ahold of," Hakel said.
But what distinguishes the high-speed rail venture from these other projects is that it's being built in so many segments over so many years – the first phase, from San Francisco to Anaheim, is slated for completion in 2029.
"That allows a community of companies that does work on one segment to carry that over into work on future segments," Hakel said.
Tortured history
Getting the project to this point has been a long, slow road impeded by cost overruns and opposition.
The rail project, which was endorsed in 2008 by voters who approved the issuance of $9.95 billion in bonds, was originally envisioned as a means to carry passengers from Southern California to the Bay Area and Sacramento at speeds of up to 220 miles per hour, with the trip from Los Angeles to San Francisco taking less than 2½ hours.
The original price tag was put at between $30 billion and $40 billion for a dedicated rail line. Once built, passengers would be charged 85 percent of current air fares, and ridership was initially projected at around 20 million passengers a year.
The rail authority issued a revised business plan for the project in 2011 that tripled the cost estimates to a range of between $98 billion and $118 billion. After widespread outcry and threats by Republican legislators to place a repeal initiative on the state ballot, the authority came back with another revised plan the next year for $68 billion that involved more sharing of rights-of-way and even some sharing of track with other rail operators – adding up to an hour in travel time – along with less tunneling and eliminating San Diego from the first phase. Further trims to the budget put the official cost at $64 billion.
The trimmed-down plan has failed to mollify critics, who said the project costs will soar once again and that even if completed, ridership revenue wouldn't come close to offsetting operating costs.
Route dispute
While much of the contract action is in the Central Valley, several engineering firms are involved in design work in Los Angeles County, helping plan the routes for three rail segments that together are projected to cost about $15 billion.
Those segments are Palmdale to Burbank, Burbank to Union Station, and Union Station to Anaheim.
Of those three, the Palmdale-Burbank route at $12 billion is by far the costliest; much of the route involves tunneling through the San Gabriel Mountains. It is also the most controversial, stirring up opposition from residents in the northeast San Fernando Valley.
The rail authority has come up with four route alternatives between Palmdale and Burbank, with the cheapest one involving above-ground siting of the rail line through rural communities near the Tujunga Wash.
Spokeswoman Lisa Ally said the authority would select the preferred alternative before the end of this year and then enter into the environmental review process through most of next year.
The other two segments heading south and east through downtown and into Orange County have not generated much controversy so far, since they are to be within the Metrolink system right-of-way.
For reprint and licensing requests for this article, CLICK HERE.