Spy Satellite May Mean Launch Firm on Way Up
AEROSPACE: Military deals could help SpaceX cope with swings in commercial orders.
Monday, May 15, 2017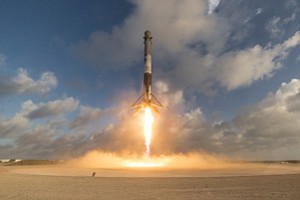 When SpaceX successfully launched a top-secret spy satellite into orbit earlier this month, it proved a triumphant moment for the firm in its years-long battle to win the confidence of the U.S. military and break a decadelong monopoly on defense launch services held by United Launch Alliance.
The event opened up a significant business line for Space Exploration Technologies Corp., Elon Musk's Hawthorne rocket manufacturer, and gives the company an alternative revenue stream that is immune from downswings in the commercial market and civilian government budgets – a pressing concern as the market for large satellite launches appears vulnerable.
With production of large geostationary satellites slowing over the last year, SpaceX needs to be prepared for the resulting slackening of demand for launch services in coming years, said Tim Farrar, president of Menlo Park consulting firm Telecom, Media & Finance Associates Inc.
"They will have to look to diversify from geostationary satellites, because there just won't be as much to launch in three or four years," he said. "There is a lot of concern in the industry about the decline in satellites."
Vertically integrated SpaceX provides the cheapest ride into space, but its market is limited to a portion of the roughly 80 to 85 satellites launched worldwide each year for military, government, and commercial uses, said Bill Ostrove, an analyst with Forecast International Inc. of Newtown, Conn. That's because many countries prefer to launch satellites on homegrown rockets. The U.S. military and commercial satellite operators also don't like to be locked into contracts with a single launch-service provider – even if that means paying more to support a competitor such as Centennial, Colo.-based United Launch Alliance.
"Half of the commercial market, half of the U.S. civil (government) and military market is the max potential," he said. "So right now, you are talking about 20 to 25 launches per year."
The number of U.S. military satellite contracts fluctuates, depending on mission requirements, but on average involves about 10 launches each year, industry observers said. That means if SpaceX wins half of those launch contracts, it could amount to around 25 percent of its total addressable market.
"It's a fairly reliable market because the U.S. military will (always) launch a certain number of satellites annually," said Marco Caceres, director of space studies at Teal Group Corp. of Fairfax, Va. "This is a big cash cow."
Military missions are often more expensive endeavors, requiring extra flight prechecks, hardware redundancies, and mountains of paperwork, which allow launch service providers to charge a premium, said TMF's Farrar.
Prev Next
For reprint and licensing requests for this article, CLICK HERE.