Medical Centers Seek Healthy Boost
Cedars-Sinai, Torrance Memorial forge partnership in which both will operate under parent entity.
Monday, May 15, 2017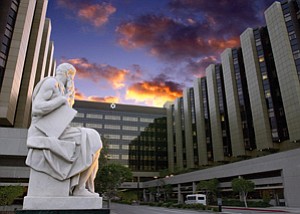 Cedars-Sinai Medical Center and Torrance Memorial Medical Center are forming an affiliation to share facilities and resources, the two institutions announced last week.
Under the proposed partnership, each institution would retain its own board of directors and operate separately under their current respective chief executives, but they would both be placed under a new parent organization called Cedars-Sinai Health System.
The union is expected to allow for future collaborations in primary and specialty care, expanded access to clinical trials, and sharing of other medical resources, the two institutions said in a joint statement.
"While both Torrance Memorial and Cedars-Sinai have strong track records for serving the region, the governance structure of the proposed affiliation is designed to foster collaboration and share resources to further enhance those capabilities to benefit patients and the community," said Tom Priselac, CEO of Beverly Grove-based Cedars-Sinai. Priselac will be chief executive of the new parent entity.
The proposed affiliation has been approved by each institution's board, but several state and federal agencies must also give their approval, a process expected to take about six months, according to the statement.
"Working with Cedars-Sinai over the years, we have been impressed not only with their quality and commitment, but with their ability to work constructively with a wide variety of stakeholders, to listen carefully, and to develop programs that effectively serve the community's needs," Torrance Memorial Chief Executive Craig Leach said in the statement.
Cedars-Sinai is the largest health care system in the Western United States: It includes the 886-bed Cedars-Sinai Medical Center; the 145-bed Marina del Rey Hospital; a network of 887 doctors; and primary, urgent, and specialty care centers throughout Los Angeles County. Its research arm has more than 1,500 current projects, 480 clinical trials, and trains hundreds of medical residents and fellows.
Torrance Memorial includes the 470-bed medical center, and three physician groups that collectively include more than 500 doctors. It also has several outpatient centers throughout the South Bay region.
– Howard Fine
For reprint and licensing requests for this article, CLICK HERE.