Development at Crossroads
REAL ESTATE: Review of project impact underway.
Monday, May 15, 2017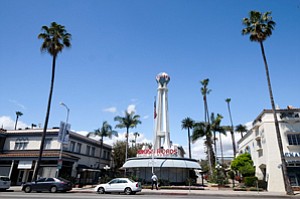 David Schwartzman has a bold vision for merging old and new in Hollywood, aiming to pump a half-billion dollars into restoring the historic Crossroads of the World complex and building the biggest mixed-use development in Hollywood history.
But the chief executive of Harridge Development Group is now girding for an uphill battle as community members scrutinize the project's draft environmental impact report released last week.
Dubbed Crossroads Hollywood, the development would plunk three skyscrapers into a mostly low-slung pocket of Hollywood, replacing decades-old storefronts, offices, and apartment complexes. According to the EIR, this high-density construction would worsen congestion and wipe out historic buildings – the very pressure points that have sparked red-hot debate over other Hollywood mega-projects.
"It's a very ambitious project, one that aims to revitalize a historic structure, Crossroads of the World, in an area that could stand to see some upgrading," said Leron Gubler, president of the Hollywood Chamber of Commerce. "But at the same time, because of the size of the project and the associated issues, it will definitely generate some opposition. It's not going to be a slam dunk."
Estimated by Harridge to cost between $500 million and $600 million, the project would span nearly 8 acres just west of the Crossroads of the World retail and office area, roughly bounded by Sunset Boulevard, Highland Avenue, and Selma Avenue.
Harridge's plans call for a 26-story tower with 308 hotel rooms; a 30-story tower with 190 condominiums; four apartment buildings totaling 760 units, including a 32-story tower and three six-story buildings; two low-rise buildings offering 95,000 square feet of office space; a restaurant at Crossroads of the World; and an underground garage with nearly 2,500 parking spaces.
Ground-floor stores and restaurants would take up 185,000 square feet throughout the project.
The proposal comes as Hollywood has experienced a burst of development. Over the next five years, 6,100 apartment units, 3,000 hotel rooms, and 2 million square feet of office space are expected to come online in the neighborhood, said John Tronson, principal at Avison Young. But anti-density activists have filed lawsuits to block several mega projects, including the Palladium Residences, Millennium Hollywood, and 8150 Sunset. A Target store has also sat half-constructed for several years, stymied by neighborhood opposition and a lawsuit.
With 1.43 million square feet, Crossroads would be larger than the $615 million Hollywood & Highland shopping and entertainment complex completed in 2001.
"It's a very bold endeavor," Tronson said. "Anything that big typically does raise some red flags to anti-development groups that have been litigating against these big projects."
Schwartzman said his development should stand up to scrutiny, although it would require some discretionary approvals, including a zone and height district change to let Harridge build taller than allowed by local planning guidelines.
"In Hollywood, you always have issues with projects and people complaining, but we're following the rules. We're not doing a general plan amendment. We're providing affordable housing," he said. "We've thought about the needs of the community. At the end of the day, you're not going to make everybody happy."
He said he envisions the project – the largest of his 25-year career – as his L.A. legacy.
Long courtship
Schwartzman had his eye on Crossroads for more than a decade, but property owner Mort La Kretz, an L.A. real estate investor who purchased the site in 1977, repeatedly turned down development ideas.
"It was a courtship, a 10- to 12-year dating period before he decided to do anything with me," Schwartzman said.
When La Kretz finally solicited proposals in 2013, Schwartzman won him over with his enthusiasm and vision for a walkable neighborhood that would preserve Crossroads of the World, built in 1936. Kretz offered Harridge a 99-year ground lease to construct the project, which Harridge would own.
Large private equity firms, which Schwartzman declined to name, are slated to assist with financing. Skidmore Owings & Merrill and Rios Clementi Hale Studios are the architects.
The west side of Hollywood has seen little change in recent years, unlike the area east of Vine Street, where Kilroy Realty Corp. is developing offices and residences at Columbia Square and Hudson Pacific Properties is buying soundstages and building office towers.
"This is like the land that time forgot. … You have this area in here that's sleepy, a donut hole," Schwartzman said.
His project stands to seriously shake things up, particularly with three towers jutting into the sky and a flood of residents expected to move in. The project would also create a retail-lined walkway from Crossroads of the World to the corner of Highland and Selma avenues, and realign a piece of Las Palmas Avenue to seamlessly connect across Sunset Boulevard.
Crossroads of the World would get a facelift in keeping with guidelines for historic renovations. Originally designed as one of L.A.'s first open-air malls in an architectural pastiche of countries and eras, the complex is now leased mostly to offices and recording studios.
Pressure points
The project's environmental impact report – whose executive summary runs 250 pages – flags substantial impacts that are likely to trigger debate.
The development's impact on traffic, street access, and parking in surrounding residential areas is described as significant and unavoidable.
"Local residential streets … may be subject to significant neighborhood intrusion impacts as a result of cut-through traffic generated by the project," the report says.
The project is expected to generate about 15,000 net new vehicle trips on a typical weekday. The two major thoroughfares through the area, Highland Avenue and Sunset Boulevard, each carry more than 50,000 vehicles daily on an average weekday, the report says.
These tallies already factor in a 15 percent reduction in total possible trips based on the project's proximity to bus and rail lines.
Jill Stewart of the Coalition to Preserve L.A., which unsuccessfully campaigned for the anti-development Measure S in L.A.'s citywide election in March, said traffic would be a major neighborhood concern.
"The roads can't handle it," she said. "It's completely out of scale with the rest of the neighborhood – it's extremely bad planning."
The environmental report also says that five houses, apartments, and commercial structures built between 1907 and 1939 and the former Hollywood Reporter building are historically significant and would need to be carefully documented before demolition. But Adrian Scott Fine, Los Angeles Conservancy's advocacy director, said those buildings merit careful review before succumbing to the wrecking ball.
"We're looking for opportunities where they could achieve project goals in a way that doesn't have to call for complete construction – or as much construction as what's on the table," he said.
In a 2015 report sent to L.A.'s city planning department, Fine noted that the old Hollywood Reporter building, constructed between 1936 and 1948 with a streamline moderne façade and home to the trade paper for six decades, is both architecturally and historically important.
Housing woes
Among the buildings slated to be torn down are a pair of duplexes and an apartment complex, with a total of 84 rent-controlled units. Harridge said Crossroads would offer 84 deed-restricted, very low income-affordable units to make up for the loss, meaning the rates would not reset to market prices for a 55-year period.
However, a new ordinance may prompt a change; it would require either 20 percent of the project, 190 units, to be deed-restricted affordable, or for all units to be subject to the Rent Stabilization Ordinance. A Harridge representative said the project would not be subject to the ordinance because it has already filed a vested tentative tract map.
The ouster of long-time tenants is a sore subject among affordable housing advocates.
"We need to view this as endangered housing stock that is preventing a huge spike in more homelessness," said Susan Hunter, a Hollywood-based caseworker at the Los Angeles Tenants Union.
Relocation assistance firm Del Richardson & Associates Inc. has begun to meet with tenants to attempt to help them find new homes and offer relocation fees. Households are eligible to receive between $7,900 and $19,700 under the Ellis Act.
Hunter aims to organize tenants to demand spots in the new buildings at the same rates they currently pay, which range from $600 to $1,000 a month.
Some businesses also would be forced out of their locations.
The environmental report suggests five alternatives that offer possibilities for scaling back the project's size, including reducing building heights and axing certain parts of the development, such as the condominium tower and office space. A sixth option calls for a complete re-thinking of the project once the city finishes retooling the Hollywood Community Plan, which has not been thoroughly updated since 1988.
The public comment period for the environmental report lasts through late June, after which a final report will be sent on to local committees and agencies for another round of input.
For reprint and licensing requests for this article, CLICK HERE.