L.A. Tourism Hits Hospitality High
Visitors spent record amount last year, but local officials wary of Trump's impact on travel.
Monday, May 15, 2017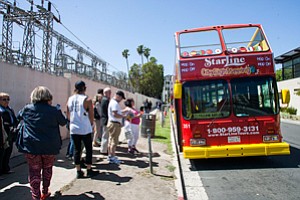 Los Angeles County businesses earned a record $21.9 billion from tourists last year, up 6.3 percent from 2015, according to a Los Angeles Tourism & Convention Board report released last week.
The main beneficiaries included hotels, restaurants, taxis, attractions, and museums, said Ernest Wooden Jr., chief executive of the board.
Last year was the sixth in a row that the county reached a record amount of visitor spending and a record number of visitors, 47.3 million, according to the report. Those two metrics have been on an upward trajectory since the recession.
A dramatic increase in the number of Chinese visitors has helped fuel the growth.
The study was prepared by the travel industry arm of market research firm Oxford Economics, which also prepared a study for the state's tourism agency, Visit California. The state's report, which used a different methodology and was released earlier this month, found the county generated $26.9 billion out of the more than $126 billion of total direct spending in the state last year.
The L.A. board hasn't made any forecasts about tourist spending for this year, but it is bracing for the impact of the negative publicity of President Donald Trump's travel ban, despite its being temporarily stayed by federal judges.
The board rolled out a marketing campaign this month to reassure international travelers and is looking at this summer's high tourism season as a test.
"So far, so good," Wooden said. "I'm cautiously optimistic that we're going to reach another milestone."
– Caroline Anderson
For reprint and licensing requests for this article, CLICK HERE.