April Cargo Volumes Spike at L.A., Long Beach Ports
Thursday, May 11, 2017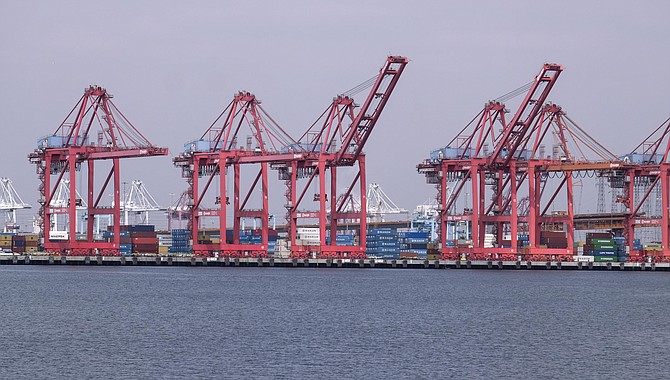 Cargo volumes rose in April at the country's two busiest ports, Los Angeles and Long Beach, with L.A.'s hitting a record for the month.
The Port of Los Angeles' cargo volume increased 8.9 percent to 714,755 20-foot equivalent units (TEUs) compared to the same month last year, its best April cargo numbers in its 110-year history, officials said Thursday. The first four months of 2017 saw a 10 percent increase in cargo movement compared to the same period in 2016, which was a record-breaking year for the port, they said.
Last month's imports increased 8.3 percent to 372,040 TEU's compared to the same period in 2016, and exports rose 9.4 percent to 157,661 TEUs.
"April was the first month of new vessel alliance deployments around the globe, and we are pleased that the Port of Los Angeles provided world-class service and efficiency at our terminals," Gene Seroka, executive director at the Port of Los Angeles, said in a statement.
The launch of three new shipping alliances that took effect on April 1 as a response to the shipping industry's struggles in recent years allows carriers to share cargo space on vessels to address overcapacity and cut costs.
At the neighboring Port of Long Beach, container volumes surged 16.5 percent higher last month compared to April 2016, and the first four months of 2017 have seen cargo rise by 5.1 percent from the year before, officials said this week.
A total of 558,014 TEUs moved through Long Beach in April. Imports numbered 288,207, an increase of 16.5 percent, and exports were 116,260 TEUs, up 3.1 percent compared to a year ago.
Port officials attributed the increase to more ships calling at the port in April due to new business and changes to vessel deployments.
"We continue to be on pace for a strong year," Lori Ann Guzmán, Harbor Commission president, said in a statement. "In April, we were pleased to welcome back Hyundai Merchant Marine as well as a new customer, SM Line."
Manufacturing and trade reporter Shwanika Narayan can be reached at snarayan@labusinessjournal.com. Follow her on Twitter @shwanika.
For reprint and licensing requests for this article, CLICK HERE.