Los Angeles Times Parent Tronc Reports 1Q Revenue Losses
Thursday, May 4, 2017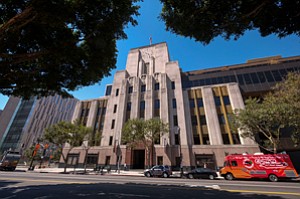 Tronc Inc., parent company of the Los Angeles Times and Chicago Tribune, released its first quarter earnings report Thursday, which detailed revenue losses in several categories compared to 2016.
Total revenue dropped to $366 million for the quarter ended March 26 – an 8 percent drop compared to the $398 million it made in 2016. Total advertising revenue dropped by 13 percent over the same period. Digital ad sales dropped by 4.6 percent.
Tronc's print revenue for the quarter dropped by 9.2 percent to $312 million, while print advertising revenue fell by 15.6 percent. Tronc's digital division saw revenue drop to $55 million for the quarter, a year-to-year drop of 3.2 percent.
On the positive side, the number of digital-only subscribers grew to 180,000, an increase of 77 percent from the prior year. Revenue from digital-only subscriptions and content syndication grew by 3.1 percent.
Also, the company's net loss for the first quarter was about $3 million compared to $6.5 million last year. Diluted earnings per share fell by 8 cents compared to 22 cents in the first quarter of 2016.
Tronc shares dropped 6.5 percent to close at $13 on Thursday.
Tronc competitor New York Times Co. reported on Thursday that its total revenue for the quarter rose to $399 million, a 5 percent year-to-year gain, due in large part to a 19 percent increase in digital ad revenue to $50 million. Its net income was about $13 million, compared with a net loss of roughly $14 million a year ago. The paper has 2.2 million digital-only subscriptions.
Contact media and entertainment reporter Diane Haithman at dhaithman@labusinessjournal.com. Follow her on Twitter @dhaithman for the latest in L.A. business news.
For reprint and licensing requests for this article, CLICK HERE.