High-End Amenities Help Put Price on Mansions
REAL ESTATE: Developers, designers look to create next big thing to hook ultrarich.
Friday, March 31, 2017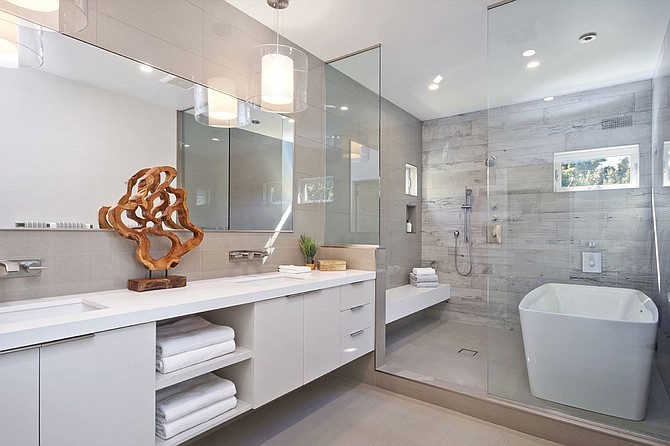 From his and hers bathrooms to six-car garages, amenities once reserved for the ultrarich have become standard fare in what some call the "middle market" of luxury homes in Los Angeles, ranging from about $5 million to $15 million.
"It's a routine conversation we have with high-end developers: What am I missing? What's going to make my house stand apart?" said Jesse Harrison, business development director at Harrison Design, an architecture firm headquartered in Atlanta with offices in Los Angeles. "What's going to make someone walk in and say, I've got to have this house?"
Those attractions range from elevators to large commercial kitchens, putting greens, infinity pools, saunas, gyms, screening rooms, temperature-controlled wine rooms, and home automation.
Such amenities are often necessary for projects to justify their asking price, said Hamid Toufanian, a developer, architect, and general contractor in Santa Monica.
"The prices of properties are soaring up," he said. "And to make a house and sell it with profit, we have to add items of luxury."
Toufanian is placing an elevator, arts-and-crafts station, dual master bathrooms, gym, wine cellar, and screening room in a home his company, Architecture West Inc., is building in Santa Monica and hopes to sell for just under $9 million.
"In 2006, you couldn't spend $200,000 on a door because the market wouldn't support it. It does now," said David Kramer, an agent at Hilton & Hyland. "A house in 2006 in the top top high end now looks tired and not nearly the level that you see today."
Kitchens for catering
Attracting wealthy buyers has started an arms race among developers, each one seemingly looking for the next "thing" to set their homes apart.
Harrison said his firm designed a simulated golf range with a giant screen in a custom $10 million Brentwood home for a links enthusiast.
Many of his clients also want full catering kitchens with walk-in refrigerators and freezers. Butler's pantries that once housed china and silverware are giving way to a "dramatic, beautiful second kitchen" housing a second oven and refrigerator as well as often quirky decorations such as "a crazy wallpaper or funky chandelier," he said.
The main kitchen is morphing to allow families to cook together, said Peter Loewy, chief executive of Beverly Hills' Teles Properties.
"You might find double or triple stoves. You might find different cutting areas," Loewy said. "In the 1950s, you'd never find a big kitchen. You would never have two stations, because in the 1950s the men never cooked."
Prev Next
For reprint and licensing requests for this article, CLICK HERE.