Clearing The Air
Environmental consultancies see client pool expand along with increase in pollution regulations.
Friday, March 31, 2017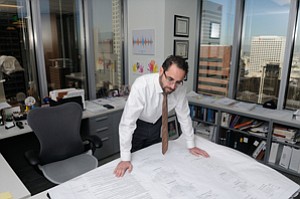 Regulations that are the bane of one industry often create opportunity for another.
That has been the case in the environmental realm, where the expansion of regulations has increased demand for consulting services.
At the same time, the effectiveness of some of the regulatory protocols over time has caused a shift in the way some environmental consultancies approach the business.
Magali Delmas, a professor of management at
UCLA's Institute of the Environment and the Anderson School of Management, said the number of accidents involving hazardous waste and toxic substances has declined over the past 30 years, in large part because businesses produce fewer toxic substances and are better at treating the hazardous waste they do produce.
Few expect that landscape to be altered significantly as the Trump administration moves forward on cutting some regulations.
That outlook is especially true in California, where state and regional regulators still hold sway.
Eddie Arslanian, a principal and director of operations for the Southwest business unit at environmental consulting firm Ramboll Environ Inc., said demand remains high for consulting services related to air quality in Los Angeles, particularly after highly publicized industrial pollution incidents.
"There are new regulations that are arising out of local situations that have occurred," said Arslanian. "Agencies are now taking tougher stances."
He said his company is expecting to see some cutbacks nationally if new policies are put in place but he does not think there will be much of a cutback in California. The state's environmental regulations are even stricter than those at the federal level, so changes in national policy will have a greater impact on other states and a lesser effect on California.
The federal Environmental Protection Agency sets health-based standards for air quality that all states must achieve, but California has other requirements that businesses in the state must meet. The South Coast Air Quality Management District, which covers all of Orange County and the nondesert regions of Los Angeles, San Bernardino, and Riverside counties, for instance, is responsible for developing and implementing a plan to reduce air pollution from all stationary sources of emissions.
Arslanian said AQMD and other state agencies have been taking tougher stances on such pollution risks, an ongoing source of business for Ramboll.
"When dealing with local agencies such as the South Coast Air Quality Management District, it is better for businesses to band together through trade organizations to give them a better place at the table with the agencies," he said.
Prev Next
For reprint and licensing requests for this article, CLICK HERE.