Trump's Ban On Travel Hits Home in L.A.
REAL ESTATE: Brokers see foreign buyers scuttle deals.
Friday, March 24, 2017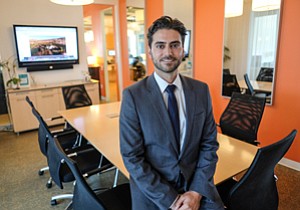 President Donald Trump's pending executive order on immigration temporarily restricting travel from several Muslim-majority countries has ground a number of potential real estate transactions in Los Angeles to a halt.
While economists and others tracking the market caution that it is too soon to point to broad trends, real estate agents involved in the busted deals said they heard from potential buyers from those countries – and even some from nations unaffected by the proposed ban – that they have become hesitant to invest in American real estate as the future of immigration policy remains uncertain under the new administration.
Joyce Rey, an agent at Coldwell Banker Previews International in Beverly Hills, said she had a married couple in Dubai ready to make an offer on a $39 million Bel Air mansion earlier this year. When the first iteration of Trump's travel ban went into effect in late January, the couple never followed through. The property wound up selling to someone else.
"They communicated to me the reason they hesitated was because of the travel ban, even though they weren't impacted by it," Rey said, adding her clients were put off by the administration's perceived attitude toward Muslims and likely chose to invest their money outside the United States.
Still, the pool of deals affected remains small.
"Is there a downtick in sales? Yeah, a little bit of one. But don't forget interest rates are up and there's worries about the Trump administration overall," said Christopher Thornberg, a founding partner at L.A. consultancy Beacon Economics. "I could point to 15 reasons why that could be happening."
However, said Nela Richardson, chief economist at Seattle-based Redfin, the political climate is affecting the decision-making process for foreign nationals who could be affected by the ban or future actions.
"The question for someone who is about to spend half-a-million or more in Los Angeles on a house is: Is this the first step in a more restrictive blueprint in U.S. immigration policy?" Richardson said. "(Buying a house requires) a type of confidence and swagger that's not just about today, but tomorrow."
Eleven out of 40 Redfin agents surveyed who reside in Los Angeles have worked with at least one client who changed their plans to either buy or sell a home due to the executive order in January, according to internal data gathered by the brokerage.
Lindsay Katz is one of those agents. Katz said she had clients in Los Angeles on an L-1 work visa, those set aside for workers with specialized skills, from Turkey who withdrew their offer on a $700,000-plus home in Woodland Hills after Trump announced his initial ban in January.
Numerous other Redfin agents nationwide have had the same experience, Richardson said.
Buyers beware
The first iteration of Trump's executive order, announced on Jan. 27, temporarily barred entry to the United States to foreign nationals from Iran, Iraq, Syria, Sudan, Libya, Yemen, and Somalia. The order, which was blocked by the Ninth Circuit Court of Appeals in February, affected people with green cards, valid visas, and dual citizenship. A second, more narrowly focused version of the ban has been halted by a federal district judge in Hawaii as its constitutionality is assessed. The updated action would allow green card and visa holders to enter the country, and Iraq was removed from the list of targeted countries.
"Things are getting better, but what if it gets worse again?" said agent Erfan Haj of Beverly Hills-based Partners Trust. "When things get shaky and this much money is involved, people get scared."
Haj said he's lost a good deal of business from high-net-worth individuals due to the pending executive order. One wealthy client with dual Iranian-Canadian citizenship was planning to move to Los Angeles from Toronto with his family and open a martial arts studio.
The client, he said, was about to make an all-cash offer on a $2 million to $2.5 million residential property, but he backed out when the travel ban was handed down.
"What if they don't give us a visa?" Haj recalled the client telling him, noting the man also pulled an offer on a commercial property valued between $4 million to $6 million.
Haj said he is also working with Iranian citizens based in Iran and Dubai looking for a $10 million-plus commercial property to house a luxury gym in Los Angeles. The clients also had plans to buy a hotel in Los Angeles priced between $30 million to $40 million. They have since called off their search for U.S. real estate, according to the agent, as Iran is one of the countries named in the ban.
Teles Properties Chief Executive Peter Loewy said he anticipates potentially helping some of the firm's clients in the Middle East find investment properties in the United Kingdom or other places where they feel safer than they might in the United States.
The Beverly Hills-based brokerage is opening offices in the United Arab Emirates, Saudi Arabia, and Qatar in the near future – places where Teles has experienced an uptick in business in recent years, according to Loewy. While those countries would not be affected under the executive order, several of the firm's clients living in those countries are subject to the ban. Teles serves high-net-worth individuals in the region who belong to royal families and work in the oil business.
The firm's clients are concerned about the future of immigration policy as well as how they might be treated in our country, said Loewy.
Even though Trump's executive orders have driven away potential buyers, analysts say the Southern California housing market would likely remain in high demand.

"We're in a very low-inventory environment where things are still flying of the shelves," Richardson said.
For reprint and licensing requests for this article, CLICK HERE.