Software, Hardware by Apium Controls Submarine, Aircraft Swarms
Group Effort
Friday, March 24, 2017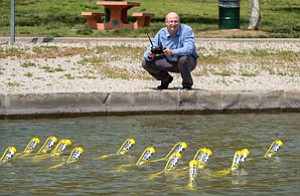 Swarms of drones might be the stuff of nightmares, but for Tyler MacCready they're a dream.
His Glendale-based Apium is working on software and hardware to direct a flock of autonomous vehicles, such as quadcopters or submarines, in a manner similar to starlings flying in a group. Such a swarm, or self-organizing system, could allow large numbers of robots to work together on tasks that can't be accomplished efficiently by a single machine or without lots of human instruction, he said.
"A swarm is a complicated thing," said MacCready, Apium's founder and chief executive. "What we do as a swarm robotics company is make that job (of drone control) simple."
Apium put its approach on display early last year using a fleet of autonomous submarines, MacCready said, which allowed his bootstrapped, nine-employee company to begin raising funds and ready the application of its technology to other robots, including aerial vehicles and small boats. The platform could help swarms of drones conduct security patrols, environmental surveys, and oil-spill cleanups.
"One use case that clearly stands out to me is search and rescue," added Ben Marcus, chief executive of Santa Monica's AirMap, which makes a traffic-control app for aerial drones. "If you have a lost hiker, and you want to quickly cover a large, expansive area, putting a swarm of drones out there would accelerate finding a person."
The number of novel drone uses emerging over the next few years is likely to be enormous, Marcus said.
Projected yearly sales of unmanned aerial vehicles are expected to grow to 2.7 million units in 2020 from 600,000 last year, according to the Federal Aviation Administration.
"We will see huge benefits driven by aerial robotics and some of that will be swarming," Marcus said. While he noted the market for swarming technology is small right now, he's hopeful about its prospects in the future.
"I think it's going to be a huge market."
Taking flight
MacCready is no stranger to the drone business. His father, Paul MacCready, founded Monrovia drone manufacturer AeroVironment Inc. in 1971, and Tyler worked at the firm as a technical consultant for 13 years. MacCready also holds a doctorate in geology and geophysics. He founded Apium in 2015, and declined to say how much he invested in the business.
"(Swarming) is a principle that I became interested in just from geology, just seeing the whole Earth as a self-organizing process," he said. "Of course, nature is full of (self-organizing) things like flocks of birds."
Robot swarms are beneficial for a number of reasons, including their ability to cover large areas, accomplish tasks where lots of jobs have to be done over a short period of time, and work together on tasks that cannot be done by a single robot, said Vijay Kumar, an engineering professor at the University of Pennsylvania, whose research focuses on controlling multiple drones simultaneously.
"Swarm technology is about getting lots of autonomous things to coordinate tasks that individuals can't," he said.
Apium has demonstrated its swarm technology through what it calls Data Diving drones, which are 30-inch, autonomous, torpedolike craft that float in water with the ability to dive to more than 300 feet. The drones are programmed to do a particular task, communicate with each other using radio waves, and coordinate their movements relative to other drones. They can be rigged with sensors to measure ocean features such as water temperature or salinity. The company is also looking at ways drones could clean up oil spills.
"If you could send out hundreds or thousands of small oil-absorbing platforms (into an oil spill), you have a way of letting robots go out and do a distributed cleanup job without having people go out into the mess," MacCready said.
Apium signed a patent option agreement with the Massachusetts Institute of Technology to license oil-absorption technology for such an application, he added.
Having demonstrated the ability to coordinate a swarm of torpedo drones, MacCready said his company has created a piece of swarm-control hardware that it plans to sell to other robotics companies.
"We've put the swarm technology into a small unit that can be attached onto other vehicles, onto aerial drones, or other ocean robotic vehicles," he said. "Swarming is a challenging subject. It's difficult to implement, so that's where we want to show up with our technology."
When looking at potential customers for Apium's technology, the ports of Los Angeles and Long Beach seem to fit the bill due to their need for security surveillance and environmental surveys. But drones – even those piloted by humans – have yet to become part of daily operations at the ports.
"We're still in the stage of looking at some of the preliminary issues – rules and regulations and best practices for using drones in the port environment," Lee Peterson, a spokesman for the Port of Long Beach, said in an email.
MacCready acknowledged that there is still a long way to go before robot-swarming technology can be applied with any sort of scale.
"It's not a big industry. I'm not sure it's an industry at all," he said. "But it will be."
For reprint and licensing requests for this article, CLICK HERE.