Electronic Controls Maker Clocks Into Midwest
MANUFACTURING: Pickup of rival will boost presence, revenue of Nelson-Miller.
Friday, March 24, 2017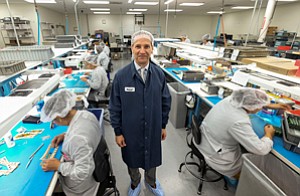 Nelson-Miller Inc., California's largest maker of electronic control products for aerospace, industrial, and medical industries, is expanding its reach with the acquisition of one of its largest competitors.
The Glassell Park manufacturer last month acquired 113-year-old Wausau, Wis.-based Wilson-Hurd Manufacturing Co. Terms of the deal were not disclosed.
"The acquisition of Wilson-Hurd will bring us roughly an estimated 30 percent growth in sales," said Jim Kaldem, Nelson-Miller's president. "We're looking at hitting $50 million this year in sales, and that includes the projected growth."
Nelson-Miller is a plastic injection molding company and maker of keypads, dials, nameplates, other electronic assemblies, and switches. Its biggest clients include Boeing Co. and Honeywell International Inc.
Wilson-Hurd makes similar types of electronic control products for similar markets. The company will become a division of privately held Nelson-Miller and continue to operate under its name while retaining its two manufacturing facilities in Wassau and Berlin, Wis.
Nelson-Miller, which has 1,500 clients worldwide, employs 225 workers and will add 93 from Wilson-Hurd, said Kaldem, who wouldn't provide further revenue or sales figures.
He said the deal would position Nelson-Miller as a national player in the industry.
"Our closest competition would be GM Nameplate in Seattle," Kaldem said. "Companies the size of ours typically make $10 million to $20 million a year in sales, but after this acquisition we're now one of the largest companies of our type in the U.S."
Seattle-based GM would still be a dominant force, however. The privately held company, whose clients include Boeing and Microsoft Corp., has 1,000 employees, and its revenue is between $150 million and $200 million, according to spokesman Andy Lampkin.
Merger, growth
Nelson-Miller was formed in 2011 when Detroit private equity firm Superior Capital Partners acquired and merged Nelson Nameplate Co. and Miller Dial Inc. The two companies, which had been operating in Los Angeles for more than 70 years, each made nameplates, electronic pad dials for ATM machines, and membrane switches for microwaves, among other products.
Calls to the private equity firm, which specializes in niche manufacturing investments, were not returned.
Wilson-Hurd, founded in 1904, had long been one of Nelson-Miller's biggest competitors. It originally manufactured a variety of items, including ornaments engraved with names of people who had died, but diversified its products over the decades. It now manufactures products including keypad dials, touchscreens, and disposable printed electrodes for EKG sensor arrays.
Its chairman and sole shareholder, William Siebecker, 78, started shopping around for a buyer about six months ago, according to Hosmel Galan, chief executive of Nelson-Miller.
Prev Next
For reprint and licensing requests for this article, CLICK HERE.