Robot Gears Up as Cook
MANUFACTURING: Chain CaliBurger beefs up burger service with Miso's 'Flippy.'
Friday, March 17, 2017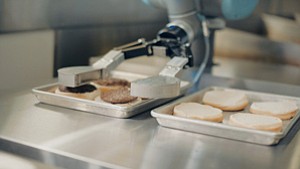 Pimply teenagers have long been a fixture on the fry-cook line of fast-food restaurants. But that could be coming to an end.
Pasadena's Miso Robotics unveiled a burger-flipping robotic arm dubbed "Flippy" on March 7 that could radically change the way restaurant kitchens operate. Developed by a trio of Caltech-educated engineers, Flippy can identify and flip patties at various stages of cooking, placing the grilled meat on a bun when it's all done. The technology was developed in conjunction with chain CaliBurger of Pasadena, which has committed to using Flippy in at least 50 of its restaurants over the next two years.
Miso, which launched in July, has received funding from Santa Monica's Canyon Creek Capital and individual angel investors, though the firm declined to disclose specifics.
Flippy is operated by artificial-intelligence software that uses temperature sensors and computer vision to determine when burgers are cooked, said David Zito, Miso's chief executive and co-founder.
"When we use our proprietary cooking A.I., it allows us to move into a kitchen where objects are soft, where they change in color as they cook," he said.
The company eventually plans to use its product for more than just flipping burgers. Restaurateurs have already reached out to Miso to see if the robotic arm can be used for doling out frozen yogurt or plucking expensive steaks from sous vide cookers, Zito said. Flippy has the same range of motion as human arms, he added.
"We envision that same software to move on to other painful tasks in the kitchen, such as working a fryer, prepping onions, and plating," he said.
For reprint and licensing requests for this article, CLICK HERE.