Celebrities Become Well-Known as Tech Funders
INVESTMENT: Some firms take shine to helping startups connect with stars' money.
Friday, March 17, 2017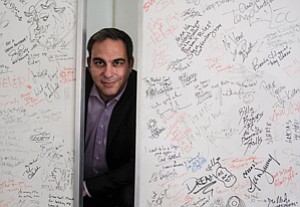 Celebrity entourages have grown a little bigger in recent years.
Beyond the managers, entertainment lawyers, and agents, tech investors have become celebrities' latest groupies – or is it the other way around?
"When Dr. Dre made more off Beats than he made off his music career, I think a lot of people are thinking, Wow, I could do that," said Courtney Reum, managing partner of M13, a Beverly Hills venture capital firm launched last year that occasionally brings along celebrity co-investors such as Demi Moore and Tobey Maguire.
"If you are an athlete or singer, and you are retired, it's the next best thing besides selling real estate," said Reum, a former investment banker at Goldman Sachs who co-founded the company with his brother, Carter.
M13 has invested in Snap Inc.; Space Exploration Technologies Corp., or SpaceX; and organic food seller Thrive Market Inc. It's part of a growing set of investors and entrepreneurs in Los Angeles helping celebrities trade their cash and cachet for equity on the world's hottest tech startups.
"I do think there are more (celebrities) that are more committed than ever to learning the craft and doing it the right way," Reum said.
Another prominent example of this growing cottage industry is Plus Capital of Culver City, which counsels two dozen celebrities, including Kevin Spacey, on tech investments. The firm helps stars navigate the world of tech startups by coordinating term sheets, brand management, and pet causes.
Plus takes a percentage of any profits made on investments, similar to the way agents, managers, and attorneys earn income from talent, said Chief Executive Adam Lilling, who added fees typically fall between 5 percent and 15 percent.
The key to making this business model work has been winning the trust of Hollywood's traditional gatekeepers, Lilling said.
"There's a force field around a celebrity and a lot of time the only people who get through are the con artists, crazy people, and the hair stylist's best friend's cousin," he said. "We are like Switzerland. We have built key relationships with many business managers, managers, and lawyers in this town."
Celebrity crush
Perhaps owing to the region's connection to the entertainment industry, investors with star power are just part of the venture capital business in Los Angeles, Paige Craig, managing partner at West Hollywood's Arena Ventures, said in an email.
"In many cases a traditional angel, seed fund, venture fund, or strategic investor will bring the celebrity investor to the table," he said.
Craig explained it's a deal-sweetening tactic that has been used by a variety of local agencies that have venture arms, including United Talent Agency and Creative Artists Agency; angel investors Kevin Gould and Troy Carter; as well as Crosscut Ventures, Sound Ventures, and his firm.
Some celebrities have cut out the middle man entirely and gone in search of deals on their own. Some examples include actor Ashton Kutcher, who co-founded West Hollywood's A-Grade Investments in 2011, which has backed mattress e-tailer Casper and product review website Product Hunt. Kobe Bryant co-founded Malibu venture capital firm Bryant Stibel in 2013 with former Dun and Bradstreet Credibility Corp. Chief Executive Jeff Stibel. The firm has invested in restaurant reservation app Reserve and the Players' Tribune, a website founded by former pro baseball player Derek Jeter that features articles written by professional and college athletes. Then there's rock band Linkin Park, whose members launched Machine Shop Ventures of Beverly Hills in 2015, which has invested in ride-hailing app Lyft and Santa Monica wireless energy transmission startup uBeam Inc.
Other celebs have become prominent angel investors, including actor and musician Jared Leto, Lilling said.
(Leto's) spent years going to Silicon Valley and talking to companies, putting in the time," he said.
Leto's investments include Uber Technologies Inc., Surf Air of Santa Monica, and Airbnb.
Despite the growing interest to back the next unicorn, Lilling said he's wary of reckless enthusiasm from celebrities and doesn't encourage clients to put excess amounts of capital into high-risk investments. The majority of Plus clients put in $50,000 to $250,000 of their own money on a deal, according to Lilling, who said he's especially cautious of investments in which celebrities put up more than $500,000.
"We don't want to feed that beast," he said. "We don't want to overweight the amount of capital they put into venture capital just because it's fun and sexy."
For reprint and licensing requests for this article, CLICK HERE.