L.A.'s Marijuana Measure M Passes
Wednesday, March 8, 2017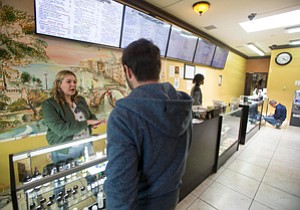 Angelenos Tuesday overwhelmingly voted to pass Measure M, the city ballot measure that implements a new licensing system and levies taxes on medical and recreational marijuana businesses.
The ballot initiative, which was backed by the Los Angeles City Council and a number of cannabis industry trade groups, won nearly 80 percent of the vote, according to the Los Angeles County Registrar-Recorder/County Clerk's office. Measure M was pitched as a way to align Los Angeles with the state's new pot laws, which go into effect Jan. 1, 2018.
The initiatives passage was seen as a key step forward, because without a regulatory structure at the city level that affirmatively licenses pot shops - something L.A.'s current system lacks - all marijuana businesses would have become illegal when the state's laws came online. While Measure M does not establish a number of pot shops that would be allowed, it gives the City Council the power to do this.

The new law establishes a retail sales tax of 10 percent on recreational pot and 5 percent on medical. Measure M also taxes growers and other segments of the industry.
In other L.A. City election news, Mayor Eric Garcetti avoided a runoff, winning reelection with 81 percent of the vote.
For reprint and licensing requests for this article, CLICK HERE.