E-sports Teams Draw Pro Players With Money, Management
Scoring Talent
Friday, March 3, 2017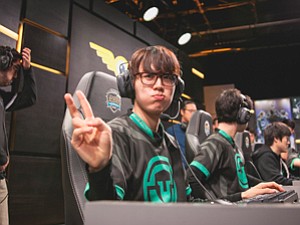 Of all the perks that come with playing video games for a living, Ho-jong "Flame" Lee said he enjoys fame the most. But the money isn't bad either.
His salary has skyrocketed since his rookie season four years ago, when he scraped together a life in South Korea on $1,000 a month. Now, after an influx of venture capital and corporate sponsorship dollars, Lee and other top professional e-sports players in North America can expect to make six figures a year playing popular games such as "League of Legends," "Dota," and "Counter-Strike."
"I am now a more famous player," Lee said through an interpreter during a break at the 6,200-square-foot, six-bedroom Brentwood home his team uses as both a residence and training facility. "The difference is huge."
Lee is a recent addition to Immortals, an e-sports franchise backed by big-money investors that's bringing traditional athletic training and fitness regimens to the world of video gaming. The investment that lured Lee to Los Angeles is part of an effort to transform e-sports from a cult internet phenomenon into a high-stakes business, replete with agents, coaching staff, nutritionists, and even strength trainers. Some analysts have predicted e-sports could be a nearly $2 billion industry by 2020.
Immortals' highly regimented approach, in which each player's activity is monitored throughout the day, is designed to keep members in peak condition, said Kang Jun-hyeok, the Immortals' team manager and a former professional e-sports player known as "Dodo8."
"A lot of Korean players go through that phase where they spend every bit of energy and are burned out," said Kang. "Some players recover from that, but some players give up and then just retire. We want them to have success in the long run."
Lee said the system is a welcome relief from grueling, finger-numbing, 15- to 18-hour-a-day practice sessions he was used to while playing for his previous teams in South Korea.
Practice sessions with the Immortals typically last 10 hours a day. There are also daily team strategy meetings, nutrition monitoring – usually focused on making sure gamers are getting enough to eat – strength training sessions, and a mandatory 2 a.m. curfew.
Serious money
Immortals is backed by big-name investors, including Oaktree Capital Management co-founder Steve Kaplan, who's also a co-owner of the pro basketball's Memphis Grizzlies; Lions Gate Entertainment Corp.; Honest Co. Chief Executive Brian Lee, no relation to Ho-jong Lee; and Clinton Foy, managing director of Crosscut Ventures.
"We have created a professional infrastructure around these athletes," said Foy, who also serves as the team's executive chairman. "Making them healthy individuals is actually directly contributing to their performance."
The Immortals staff includes head, strategy and assistant coaches; a team manager; and two game-play analysts. Its five players and six support staff live and practice inside a Bundy Drive McMansion, where it's not uncommon to see players wandering the house with bed-matted hair wearing slippers, pajamas, and an Immortals jersey. The house is a temporary camp before the team moves into a new facility being built in Santa Monica, which is expected to be ready in two months.
Head coach Robert Yip has degrees in sports psychology and exercise physiology, which is helpful because physical health can impede gaming performance, said Immortals Chief Executive Noah Winston, who dropped out of Northwestern University in 2015, at the beginning of his senior year, to pursue a career in e-sports.
"Injuries are a problem for some players, but we have a pretty focused way of dealing with that. We have a therapy program for them," he said, noting finger, hand, and wrist soreness as common ailments. "Instead of (playing) 16 hours a day, you go eight hours a day – 16 is the very upper limit. If we left them to their own devices, they might practice that much."
Other North American teams are employing similar systems. Among them are Immortals' crosstown rivals Cloud9 and Team Liquid. The latter is backed by aXiomatic, an investment group that includes Peter Guber, a co-owner of the Golden State Warriors and Los Angeles Dodgers; Washington Wizards owner Ted Leonsis; AOL Inc. co-founder Steve Case; and Earvin "Magic" Johnson.
"We monitor how much sugar and caffeine they are consuming on a daily basis," said Steve Arhancet, Team Liquid's chief executive. "We also have an in-house chef that provides two meals a day, five days a week to the guys. We see better cognitive function; we see high visual scores when we test the players."
Players in the league are measured on actions per minute, a test of hand-eye coordination that gauges the reaction time between when a player sees something on screen and clicks the keyboard or mouse, he explained.
Heating up
Just 24, Flame Lee is already a veteran. Once considered one of the world's best "League of Legends" players, he spent much of the last year riding the bench in a slump, which he blames on burnout from spending too many hours playing the game.
"In Korea, they usually don't recommend exercise or more sleep," he said through an interpreter. "I'm not sure if that's good for work and life long term."
Recruited by Immortals, he was convinced to join because he thought the team's holistic approach could round him into peak shape.
"I wanna get a win or get a world championship," he said.
While the support he found in the States might facilitate that goal, the culture surrounding professional gaming here is far different than in Korea, the epicenter of the e-sports world.
"The pro gamer title is actually pretty respected in Korea," Lee said, adding that same type of recognition has yet to take root in the United States. "A lot of people (here) when they hear pro gamer, they don't treat it as a real job."
That could soon change. Televised and online e-sports viewership is projected to reach 385 million unique viewers this year, according to marketing analytics firm Newzoo. Last year's League Legends World Championship, which took place at Staples Center in October, drew nearly 14,000 fans and had a prize pool of roughly $4 million. Nearly 15 million people watched the tournament finals live online, according to Riot Games, and some 1.3 million people follow the Immortals and its players across Facebook, Twitter, and Instagram.
Gamers usually play in two tournaments a week. Many "League of Legends" tournaments are held at Riot's North American League of Legends Championship Series Studio, home to a 300-seat arena and an 80-seat theater across Olympic Boulevard from the video-game company's West L.A. headquarters. It's not uncommon to find tailgaters flipping burgers in the venue's parking lot before tournaments.
Revenue streams
Just like traditional pro sports franchises, e-sports teams generate revenue through a variety of streams, including prize money, broadcast deals, merchandising, and sponsorships.
"Each of the major teams have a deal with Twitch, Facebook, or one of the other streaming platforms," said a source familiar with the e-sports business model who asked not to be named due to confidentiality agreements. "The team then has a contractual obligation to have their players stream 15 or 20 hours a month."
A growing number of brands are eager to have e-sports stars endorse their products. For example, after an Immortals player said publicly that he didn't wear underwear, online retailer MeUndies of Culver City paid an undisclosed sum in July to have all of the Immortals endorse its skivvies.
"We are always looking to find untapped markets," said Jonathan Shokrian, MeUndies' executive chairman. "When it's a small, very niche market, you have an audience that's listening more carefully and more willing to buy into things."
As the value of players' name and image rights grows, sports agents said they expect to see more deals struck between brands and individual players.
For now, e-sports players' income comes almost entirely from their teams, which negotiate deals on their behalf – money that is sometimes sent home to family, said the Immortals' Winston.
Winston declined to speak about the team's player contracts, but Happy Walters, chief executive of Santa Monica's Catalyst Sports & Media, a sports agency that consults with e-sports teams, said deals typically last one year, with some exceptional players able to secure multiyear contracts.
"The difference between traditional sports (and e-sports) is that you have a union, a collective bargaining agreement, where players are guaranteed salaries for a long period of time, whether or not you get better," he said, noting that e-sports players have yet to organize a union.
"Players are having lawyers looking at the contracts to see what they are giving up, but it's still in its early stages," he said. "A top gamer makes $250,000. For an agent that represents him, if he gets 5 or 10 percent, that's not a lot of money."
Because players have historically been eager to sign contracts, some nefarious deals have taken place, said Tobias Sherman, head of e-sports at Beverly Hills' WME/IMG.
"In some instances, team owners (were) promising salaries and not paying them," he said. "You're going to see players claw back name and image rights from teams."
Winston noted that he's in favor of agents in the industry as it will help e-sports mature.
"Right now, players are 19 to 20 years old. They are unsophisticated in the way they evaluate contracts," he said. "They see salary and they see term, but they don't see all the other stuff that's held in a 20-page player contract."
The toughest part of the job, said Winston, has nothing to do with playing video games.
"There is a lot of – 'babysitting' is maybe a little too strong – but babysitting that has to get done," he said. "Your talent is young adults that don't necessarily know how to take care of themselves outside of the game."
For reprint and licensing requests for this article, CLICK HERE.