Original Wonder Woman, Honorary Millennial
Friday, June 30, 2017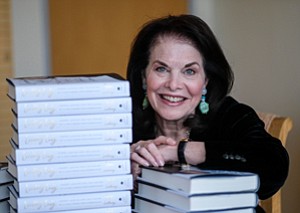 Sherry Lansing, who in 1980 became the first woman to head a major movie studio, West L.A.'s 20th Century Fox Film Corp., has the entertainment viewing habits of a millennial.
Lansing, who went on to run rival studio Paramount Pictures Corp. for 12 years, often finds herself wishing her plane would stay airborne because she still has six hours left to binge-watch a favorite TV series on her iPad. She often jokes to her husband, "The Exorcist" director William Friedkin, that "other than you, my iPad is my best friend."
The reason Lansing, 72, feels the need to carry her iPad with her everywhere has to do with the evolution of Hollywood product since she left Paramount in 2005 to launch the Sherry Lansing Foundation.
Gone is the presumption that theatrical movies represent higher-quality entertainment than you can find on TV, she said.
"The lines are finally blurred," she said. "You go after the best material."
Lansing made the observation in a conversation just a few days after "Wonder Woman" raked in more than $100 million in its first weekend. The film has gone on to make more than $635 million worldwide, beating out the roughly $610 million made by 2008's "Mamma Mia!," directed by Phyllida Lloyd, vaulting the superhero film to the top of the list of highest-grossing live-action movies directed by women.
"No one says a woman can't run a studio," she said. "Now, no one's going to say a woman can't direct an action picture."
Lansing said she was as eager as any teenager or 20-something to see "Wonder Woman" during its first weekend. She offered that as an indicator to movie producers that they would do well to realize their target audience is broader than they might assume – something they should consider when hiring their creative team.
"I think ageism is the silent thing that no one's talking about," she said. "You cannot convince me that at 50 (filmmakers have) lost their talent. They should be judged on the best movie that they did, not their last."
Lansing is considered by many to have been a key figure in changing preconceptions about the capability of women in leadership roles since taking the reins at 20th Century Fox nearly 40 years ago. She held development positions at several companies before being appointed vice president of production at Columbia Pictures until she was hired to run 20th Century Fox.
A New York Times headline announcing the hiring reads: "Sherry Lansing, Former Model, Named Head of Fox Productions," referring to the Chicago-born executive's beginnings as a model and actress after a stint as a math teacher in Watts.

"Today, that would be a class-action lawsuit," she said.
Lansing recalled much less hoopla over gender when she became chairman of Paramount's motion picture group in 1992.
"It was accepted," she said.
Lansing declined to comment on today's financially troubled Paramount, noting that she has been away since stepping down in 2005.
The studio's current state is a long way from where it stood during Lansing's tenure, when Paramount notched some of its biggest hits, including "Forrest Gump," "Braveheart" and "Titanic," all of which won the Academy Award for Best Picture. Her tenure there also saw Lansing work closely with controversial figures Tom Cruise and Mel Gibson, both of whom she recently defended in an interview with the Hollywood Reporter.
Lansing also partnered with producer Stanley Jaffe in between her studio leadership posts to form Stanley Jaffe Productions, producing Academy Award nominated thriller "Fatal Attraction" in 1987, and other films.
Lansing was back at Paramount when she bet on the often-ignored audience of women over 25 with 1996's "First Wives Club," starring Diane Keaton, Bette Midler and Goldie Hawn. The movie grossed more than $180 million at the box office worldwide.
Oddly enough, Lansing said she was unable to find a woman director who wanted to take on that film.
"When they turned it down, we went to male directors and were thrilled with Hugh Wilson's vision for the movie," she said.
Longtime friend Carole Black, former chief executive of Lifetime Entertainment Services, met Lansing while working in various marketing positions at Walt Disney Co.
Black said Lansing surprised her in 1992 with a phone call to invite her to lunch – living up to the studio exec's reputation for returning all calls, and nowadays, every email.
"I heard about Sherry before I even knew her," Black said. "It was a small thing, but (at Disney) some of the executives would say, in group meetings, 'If Sherry Lansing can return every call, every day, surely you can.'"
Black said Lansing never dwelt on any sexism she might have encountered in Hollywood.
"In the film business, she was an enormous breath of fresh air for other women," Black said. "She didn't use being a woman. … She had brains and talent and excellent instincts. That allowed people to say: Wow, a woman can run a huge studio and do it enormously well."
Lions Gate Entertainment Corp. Vice Chairman Michael Burns said he called Lansing for advice earlier in his career, and the connection grew into a 20-year friendship. He noted that she can be tough and tenacious when needed, and she was never afraid to say no to a project.
"I think I would call her a benevolent killer," he said. "When she goes after something, she is going to get it."
Paul Wachter, chief executive of investment advisory firm MainStreet Advisors, whose entertainment clients include Arnold Schwarzenegger, LeBron James and Bono, previously served with Lansing as a University of California regent. He praised her ability to navigate a sometimes thankless job, calling her an obvious role model.
"She was a powerful woman who was shattering barriers and doing it in the nicest way," he said.
Encore
Lansing said she left her role as Paramount chief voluntarily to create her eponymous foundation, which focuses on education; cancer research; health; and what the foundation calls encore career opportunities, including an initiative to bring former business and biotech executives into public schools as math and science teachers as an alternative to retirement.
Lansing's mother died at 64 of ovarian cancer, a fact that fuels her passion for eradicating the disease. Her father died at 42. Those harsh realities also influenced her decision to leave Paramount at 60 to focus on the foundation and her personal life, as well as travel.

"I didn't want to die at my desk," she said. "I'd like to go someplace and decide I want to stay an extra day just because I like it. I could never do that because I always had meetings."
Lansing also is spending time promoting her new biography, "Leading Lady: Sherry Lansing and the Making of a Hollywood Groundbreaker," by Stephen Galloway, Hollywood Reporter's executive features editor. She agreed to participate in the book and gave Galloway complete editorial control.
"In a moment of weakness, I said yes," she said with a laugh. "And I have to say, I spent the next four years in total anxiety, that is really the truth. … He interviewed 300 people and it was terrifying."
Lansing said she wound up finding the process healing.
"When I read it, I can't tell you I loved everything about it, but I have to say, the stuff I didn't like was true. It was freeing," she said. "When everything is out there, there's nothing to be afraid of anymore."
For reprint and licensing requests for this article, CLICK HERE.