Deals & Dealmakers: Upfront Raises $400 Million
INVESTMENT: Latest fund brings total assets under management to $2 billion.
Friday, June 30, 2017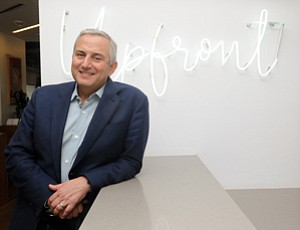 Upfront Ventures said last week that it has raised a $400 million venture capital fund – the Santa Monica-based firm's sixth core investment vehicle – giving it some $2 billion in assets under management.
The $400 million figure is $20 million more than Upfront previously said it was looking to raise, according to a May 31 Securities and Exchange Commission filing. The firm said in another filing that month it also plans to raise $120 million for its second opportunity fund. Opportunity funds are typically used as supplementary vehicles to larger venture funds.
The two funds are the first for Upfront since it closed a $280 million vehicle in December 2014 and the firm's first complementary $100 million fund in March 2015.
Partner Mark Suster wrote in a blog post last week that Upfront plans to invest in about 15 new companies and deploy approximately $100 million in capital yearly. He said the firm is focused on seed and Series A rounds, but would go after other opportunities if they arise.
"As our brand makes clear, we're early stage venture capital investors," Suster said. "88% of the deals we do are Seed or A-Round investments and our median check size is $2.8 million. We don't mind investing earlier if the situation warrants and we don't mind leading a B-Round if we know the team well or the market."
Upfront was an early investor in companies such as Culver City-based Maker Studios, which was acquired by Walt Disney Co. in 2014, and Burstly, an app-testing platform in Santa Monica that was purchased by Apple Inc. the same year.
Suster also touted the firm's support of companies founded by women, touching on a hot-button issue for the venture capital community. He said approximately 30 percent of the companies Upfront backed from its last fund had at least one primary female founder.
Look for the firm to continue deal-making activity in the L.A. market, which Suster said is primed for growth.
"There's no doubt in my mind that 'LA is having a moment,'" he said. "Increasingly, local entrepreneurs are finding they don't have to 'take the trip up North' quite as often because on a weekly basis venture firms are down in L.A. –  it's only an hour's flight."
Suster did not respond to a request for additional comments.
Biotech Court Battle
NantCell Inc., one of the companies under the umbrella of billionaire biotech mogul Patrick Soon-Shiong's NantWorks, announced last week that it acquired Altor BioScience Corp.
But the deal is being challenged in court.
A shareholder lawsuit filed in Delaware claims Soon-Shiong – who is also Altor's majority shareholder – orchestrated a sweetheart deal for the company at below market value. The suit alleges the $290 million paid for the immune-oncology company is less than the $309 million valuation it received after an equity financing round in December.
"The Merger is the product of an unfair process, transaction structure and valuation that deprives Altor's minority stockholders, including Plaintiffs, of the ability to realize value and participate in Altor's long-term prospects," the complaint reads.
NantCell countered in a release last week that its upfront payment – not including potential performance-based bonus payments – represents a more than 20 percent premium to Altor's most recent equity financing completed in March and a 33 percent premium to equity financings last year.
Altor has more than a dozen cancer treatment drugs in some stage of the clinical trial process.
Soon-Shiong said in May that he plans to combine NantCell and several other companies in the NantWorks family into one entity and take the combined business public next year. The planned company – dubbed NantBio – is valued at more than $8 billion, according to Soon-Shiong.
He said at the time that the proposed company had two drugs in Phase 3 trials with the Food and Drug Administration, 21 in Phase 2 and 26 in Phase 1.
The shareholder lawsuit claims that several Altor drugs were included in those calculations.
Ironclad Offer
Safety Supply Corp. of Memphis, Tenn., said last week that it would pay $23.5 million for El Segundo's Ironclad Performance Wear Corp., publicly appealing to the shareholders of the outdoor glove maker.
Safety Supply Chief Executive Mike Tutor sent a public letter to Ironclad Chairman Vane Clayton proposing the deal, which represented a 37.5 percent premium on Ironclad's closing share price June 27. Tutor's letter minces no words, asking shareholders to approve the deal.
"We believe our offer presents a viable exit strategy for your shareholders," Tutor's letter reads. "A bloated corporate overhead expense structure coupled with a poor operating performance, weak earnings and a stock that is dramatically underperforming the market only crystallizes our view that the Company's value proposition model has ended and is at risk for further decline."
Ironclad did not immediately respond to a request for comment.
For reprint and licensing requests for this article, CLICK HERE.