Snack Puffs Up
Friday, June 23, 2017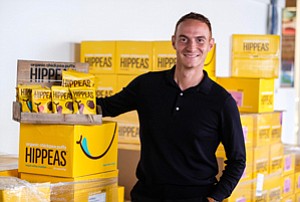 New investments from actor Leonardo DiCaprio and a Chicago-based private equity firm is puffing up the Hippeas brand of chickpea puff snacks.
DiCaprio and Strand Equity Partners last month invested an undisclosed amount in Green Park Brands Inc., the Santa Monica-based parent company of the brand.
Green Park founder and Chief Executive Livio Bisterzo declined to say how much was invested. He did say the company has raised a total of $2.5 million, including the latest round, with the balance coming from angel investors and friends.
Hippeas began selling through various retailers in March of last year, generating $2.5 million in wholesale revenue over the balance of 2016, he said.
Bisterzo, 36, projected his company would generate $11 million in wholesale this year. He said Green Park was able to get its product into stores quickly in part because of his experience and connections launching two other consumer goods brands – men's grooming line Kyoku and Little Miracles, a maker of tea drinks. Bisterzo sold his interests in both companies before launching Hippeas.
"It wasn't my first rodeo bringing a brand to market," he said. "We knew the product innovation made a lot of sense. We wanted to create a healthy snack product that hit all the major trends. We had the right product, the right brand, a big brand story. Now it's just going to the market and showing it (to customers)."
Hippeas are available in U.S. stores including Albertsons, Vons and Starbucks, and will be in Kroger Co. and Target stores later this year. The snack is also sold in the United Kingdom, where the company has an office.
A 1-ounce bag of Hippeas goes for $1.95 at Starbucks – a decided premium compared with most snacks.
The typical profit margin for salty snacks is 20 percent to 30 percent, according to Norman Deschamps, owner of Canadian market research firm Rogue Thought Consulting. Sales of snacks including alternative ingredients such as chickpeas, sweet potatoes, kale and spinach grew almost 7 percent from $1.03 billion in 2015 to $1.1 billion last year, according to a report Deschamps authored for industry research firm Packaged Facts. Sales are expected to grow almost 8 percent this year.
Sales of the subcategory of chickpea snacks grew almost 153 percent for the year ended Oct. 16, 2016.
"The category is quite competitive, but the big snack players are only just starting to get into this space, leaving plenty of room for all the new entrants to carve out a niche for themselves (or just as likely to get bought out in the next few years)," Deschamps said in an email. "However, staying on the very edge of this trend is difficult at best, and leaves the company very vulnerable to consumers quickly shifting to the next trendy product within the healthy snack space."
For reprint and licensing requests for this article, CLICK HERE.
Prev Next