LAX's Growth Rate Takes Off
AVIATION: Airport leader in origin-destination travel
Friday, June 23, 2017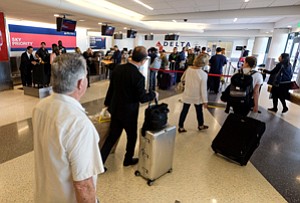 Los Angeles International Airport continues to lead as the nation's top origin-and-destination airport – the busiest facility when it comes to passengers who are residents or visitors as opposed to fliers passing through on the way to somewhere else.
That's one byproduct of a hot streak that saw overall passenger traffic at LAX grow at double the national rate last year.
LAX had 80.9 million passengers in 2016, according to Los Angeles World Airports, which included 52.8 million origin-and-destination passengers, according to Denver-based aviation consulting firm Boyd Group International. It's a new record and the first time the facility topped the 80 million mark.
Atlanta's airport has long been the busiest in the United States, and had 104.1 million passengers last year. Only 36 million of them counted the Atlanta market as home or their destination, however – a circumstance that owes in large part to the facility's role as an operational hub for Delta Air Lines and several other air carriers.
"In many cases, passengers are not choosing to fly to Atlanta; rather, the airlines direct them there to connect to other flights," said Michael Boyd, president of Boyd Group International. "That's not the case with Los Angeles. By far, more passengers are choosing to fly to and from LAX than any other airport in the country. It's largely because they want to be in L.A."
Last year's performance at LAX was no fluke. The facility has posted a 21 percent boost in passenger count in the five years since the market began to take firm steps toward recovery from the Great Recession.
The rate of passenger growth when combining LAX traffic with several smaller airports in the area – Long Beach, Hollywood Burbank and Ontario International airports – is a tad higher, at 22 percent.
The pace continued in 2016, when passenger counts at the four L.A.-area airports rose about 7 percent, led by an 8 percent jump in passenger traffic at LAX.
LAX continues to post gains this year, with its total up 5.7 percent through April compared with the same period a year earlier.
Arrivals
A booming tourist market that saw a record 47 million people visit Los Angeles County last year helped boost airport traffic, and so did a robust economy at home that left local residents with more money in their pockets to travel.
The combination propelled the growth of passenger traffic at the region's airports at rates far above the national average – a trend reflected in the Business Journal's annual list of the top 25 airlines by combined passenger traffic at the four commercial airports here. The top 25 airlines reported a cumulative 84.5 million passengers in 2016, up 7 percent from 79 million passengers in 2015.
Prev Next
For reprint and licensing requests for this article, CLICK HERE.