Speedy Century City Office Deal Delivers Discount
SALE: Investment partners get 33,000 square feet in tight market for $14.7 million.
Friday, June 23, 2017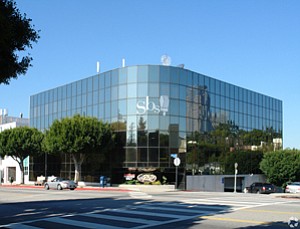 Time was money in a rare case of distress in Century City's robust office market.
Miami-based Spanish Broadcasting System Inc. sold its four-story building in a recent deal, which appears to have given the buyer a big discount in exchange for fast action.
The 33,000-square-foot building at 10281 W. Pico Blvd. was sold for $14.7 million, or $445 a square foot, to Long Beach-based Harbor Associates and Stockbridge Capital Group. The transaction closed June 9 after 25 days – about twice as fast as Harbor's typical time frame, according to Paul Miszkowicz, a principal of the investor.
Spanish Broadcasting System initially hoped to sell to potential owner-users when it put the building on the block earlier this year, drawing interest from a couple of dozen companies but failing to lock down a deal, Miszkowicz said.
The broadcaster's financial situation worsened in the meantime– it reported a $10.8 million loss in the first quarter, and that came on top of $43 million in red ink over the prior two years, according to the company's Securities and Exchange Commission filings.
The mounting losses led the owner to shift its target to buyers that could move quickly and drop the asking price, according to Miszkowicz.
"The pricing was probably a 40 percent discount to what they were trying to get from owner-users to purchase the project," he said. "The benefit for the seller is they got their money quickly. The benefit for us is we think we got the project for a pretty attractive price."
Spanish Broadcasting System did not respond to a request for comment.
Newmark Knight Frank's Kevin Shannon, Rob Hannan, Ken White and Brad Feld represented Spanish Broadcasting System in the deal. The broadcaster, which owns radio station KLAX-FM (97.9), known as "La Raza," purchased the building in 1994 for about $2.2 million, or roughly $71 a square foot.
Spanish Broadcasting System occupies the full building and plans to lease back its space for six months, according to Miszkowicz. Harbor, based in Long Beach, then plans to begin a substantial renovation of the property, which was built in 1981 as the Los Angeles Rams headquarters.
Koreatown Connection
A Woodland Hills-based real estate investor has purchased five adjoining apartment buildings that hold 23 units in Koreatown for $10.5 million. It plans to tear down the properties, according to CBRE, which represented the seller.
CGI – Strategies in Real Estate bought the properties, which total 38,530 square feet, from Brian Han, according to CoStar. That translates to about $253 a square foot, or $950,000 a unit.
While the apartments now hold 23 units, a developer could build about 130 units in their place, CBRE said in a statement last week.
Developers already have 3,000 apartment units under construction in Koreatown, aiming to fill a demand for modern residences.
Most apartments in the area were built before 1970, including the five that comprise CGI's acquisition – those properties date to 1917, 1920, 1922, 1924, and 1941. The buildings stretch from Mariposa Avenue to Fedora Street between Eighth Street and James M. Wood Boulevard.
Their ages mean the units are likely rent-controlled under the city's Rent Stabilization Ordinance that applies to most rentals built on or before Oct. 1, 1978. That means that CGI would likely need to comply with a city law that took effect this month directing developers who demolish rent-controlled units to either set aside 20 percent of new units for long-term low-income housing or make all of the new units rent-controlled. Twenty percent of a 130-unit property would be 26 units.
That's a bigger hurdle than building on vacant land, but most empty lots in Koreatown have already been snatched up for development.
CGI was represented by Koreatown-based real estate firm Cenocore, while Han was represented by CBRE's Laurie Lustig-Bower and Kamran Paydar.
Staff reporter Daina Beth Solomon can be reached at dsolomon@labusinessjournal.com or (323) 556-8337.
For reprint and licensing requests for this article, CLICK HERE.