Dearden's Puts Prime Downtown Property On Market
Monday, June 19, 2017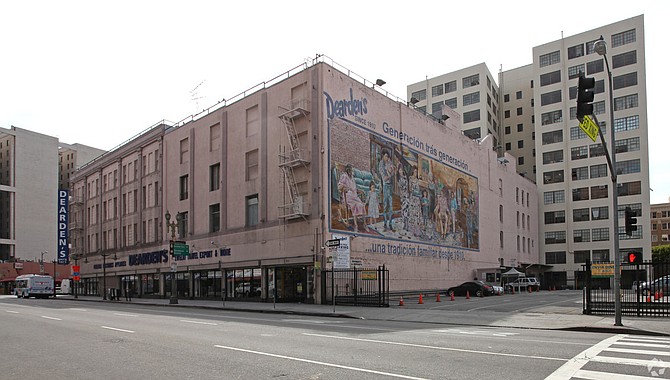 The pending closure of 107-year-old Southern California furniture chain Dearden's is putting its local real estate portfolio into play.
Owner Ronny Bensimon said three Dearden's locations – shops in downtown and Van Nuys, and a Rancho Cucamonga distribution center – are on the market. The owner of the downtown site is Dearden Properties, which is a co-owner of the Rancho Cucamonga site with Rancho Amigos Investors. The Van Nuys site appears to belong to Dearden's directly.
Dearden's occupies a total of nine locations, including five in L.A. County and others in Orange County and San Bernardino County. Dearden's or entities connected to the company own about half of those sites, according to public records.
Rob McRitchie, a senior vice president at Jones Lang LaSalle, holds the listing for the downtown site at 700 Main St., which comprises two adjoining buildings with 138,000 square feet on a 1.75-acre lot. He declined to comment.
Mark Tarczynski, an executive vice president at Colliers International, estimated the land value would be around $50 million for investors aiming to replace the building with a residential tower.

"It's very desirable. The whole Broadway, Spring, Main area is on fire," he said.
Justin Weiss, a vice president at Kennedy Wilson, said there's potential to convert the building into residences, offices, or a hotel, and estimated the building's value at as much as $48.3 million.
"It's a great opportunity, especially with Brookfield acquiring the California Market Center," he said.
Dearden's, which caters to Latino shoppers, announced its plans to close at the beginning of the month. The downtown site bustled with families on a recent Sunday afternoon, suggesting that a devoted clientele might be keen on snagging a few final deals while there's still time.
"We're closing when the inventory runs out," Bensimon said. "We're guessing it's going to be July or August."
For reprint and licensing requests for this article, CLICK HERE.