Elon Musk Drills In on Report in Business Journal
TECHNOLOGY: He stands by LAX tunnel proposal despite city officials' doubts.
Friday, June 9, 2017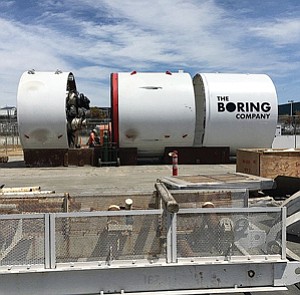 Boring Co. founder Elon Musk acknowledged last week that his company would likely struggle to gain government approval for a tunnel extending from Los Angeles International Airport to Sherman Oaks, but said the endeavor was still worth a shot.
Musk was responding to a May 29 Business Journal article titled "Tunnel Skepticism Runs Deep," which reported on the doubt among city officials in Los Angeles, Santa Monica, and Culver City – municipalities in the path of his planned tunnel.
"We can either give up hope & sit in traffic hell forever or try something new," Musk wrote on Twitter. "The odds of success may be low, but they're better than zero."
Musk is aiming to build a tunnel boring machine that is much faster than the industry average, which he laments is slower than a snail. He plans to use such a machine to tunnel underground from LAX to Culver City, Santa Monica, Westwood, and Sherman Oaks. Cars would be whizzed through the tunnel at more than 120 mph on electric-powered sleds. The sled would then be raised to the surface on an elevator platform that emerges from a hole in the street when its destination is reached.
Musk noted his plan already has one city's approval.
"The Boring Company is in Hawthorne and has already approved the permit," he wrote on Twitter.
Officials from other local municipalities said such a tunnel plan would face a quagmire of environmental and safety regulations as well as property rights issues.
"The level of complexity and permitting and environmental review – and opportunity for environmental litigation – would stretch this out for decades," said Santa Monica City Manager Rick Cole, a former L.A. deputy mayor, in last month's article.
New Boss
Los Angeles Cleantech Incubator has named Matt Petersen its next chief executive.
Petersen plans to move to the incubator from his position as chief sustainability officer for the city of Los Angeles and replace Chief Executive Fred Walti in mid-July.
Petersen said he will do his best to ensure continuity in the incubator's operations, though he'd like to see the organization support more efforts to change the region's reliance on internal combustion-powered vehicles.
"One of the great opportunities for LACI is to really help Los Angeles lead in terms of electrification of transportation," he said. "L.A. is the epicenter of the car culture and LACI can be central to advancing solutions."
Peterson said he also plans to partner with more research institutions, such as UCLA, to establish the incubator as a thought leader in environmentally friendly technology.
"I want to make sure LACI is a force for the cleantech economy in Sacramento and Washington," he said.
Petersen said even though he has no experience working in a business setting – his experience includes time at environmental nonprofits and in city government – he feels confident in his ability to manage the more than 40 companies within the incubator's portfolio.
"Throughout my career, I've always seen myself as a serial entrepreneur, albeit in the nonprofit and government world," he said. "I plan to use that experience."
Stem Growth
Stem Disintermedia Inc. raised $8 million last week to further develop its music royalty management software.
The firm's product distributes song files across online music platforms, including iTunes, Pandora, and Spotify. Stem's software divides up royalties among the various right holders, such as producers, songwriters, videographers, performers and editors, when the music generates revenue from advertising, subscription, or download fees. The royalties are distributed electronically through PayPal.
Such a payment process has become increasingly complex in the music industry in recent years with more artist collaboration, and song sampling and covers.
"We kind of act as the escrow agent that pays out all the rights holders at the same time," said Milana Rabkin, the firm's chief executive and co-founder.
The funding round was co-led by San Francisco's Aspect Ventures and Evolution Media of Burbank. Stem has raised $12.5 million since its launch in 2015.
Rabkin said Stem's platform is preferable to the established system of royalty distribution, which is often opaque and slow to make payments.
"Information is only given to (rights holders) months and months later, when it might be too late to make a change in the business," she said.
Speeding up the time in which artists are paid helps them allocate capital more efficiently, she added.
"It's really amazing how the artists are able to think more like business people because they are seeing their cash flow," Rabkin said.
Stem said artists Frank Ocean and Childish Gambino, the stage name of Donald Glover, use the platform to receive payments.
Staff Reporter Garrett Reim can be reached at greim@labusinessjournal.com or (323) 549-5225, ext. 232.
For reprint and licensing requests for this article, CLICK HERE.