Support May Cool for Solar Water-Heating Firms
ENERGY: Assembly mulls allowing incentive program launched in 2010 to expire.
Friday, June 2, 2017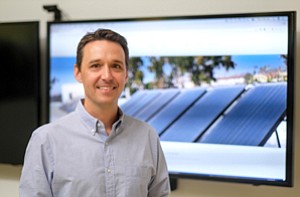 Adam Boucher says installing systems that use solar energy to heat water for use in affordable housing buildings is an ideal way to fulfill his company's mandate of providing renewable energy to low-income residents.
"Heating water with the sun is by far the single biggest thing residents can do to lower their use of natural gas, a fossil fuel," said Boucher, founder and chief executive of Promise Energy Inc. in Culver City.
But Boucher's dream is running up against an economic reality: With natural gas prices at or near historic lows, it takes tremendous financial incentives to make installing solar water-heating systems affordable.
Now, the future of a key component of those incentives – a state program for rebates funded by natural gas utilities – is facing an uncertain future. Legislation to renew the somewhat controversial program passed the Democratic-controlled Assembly on a largely party-line vote last month and is headed to the state Senate. Without the two-year renewal, the rebate program would end next year, impacting both homeowners who want the systems and about a dozen L.A. businesses that install them.
Boucher said that would effectively end the half of his business that helps keep his installation crew of 12 busy. His firm would have to shift completely to putting in electricity-generating photovoltaic panels from solar water-heating technology.
That technology has been around for several decades, but little used until recently.
The systems take cold water coming into a building, route it through pipes onto the roof, where solar collectors heat it, and then send it back down to water heaters for use in showers, washing machines, dishwashers, and some industrial processes. When working at full steam, these systems can cut natural gas used for heating water by more than 80 percent.
Installing one of the systems on a single-family home costs roughly $7,500, while the price is as much as $150,000 to place one on top of a 100-unit apartment building. But with natural gas prices at a low 2 cents per therm (the amount of energy it takes to burn 100 cubic feet of natural gas), it can take more than eight years to recoup that investment through savings in natural gas, way beyond the investment time frame of most building owners and single-family homeowners.
Seeking incentives
Enter the utility rebate program, which launched in 2010 to offer up to $250 million in incentives; when combined with federal tax credits, the cost to install solar water-heating systems was cut by roughly two-thirds, just enough to maintain a small market for these solar water-heating systems and provide work for installers in the L.A. area. The rebates are provided through ratepayer surcharges on natural gas; in Los Angeles County, that falls to the Southern California Gas Co., a unit of Sempra Energy of San Diego.
With the utility rebate program set to expire a year from now, Sacramento trade group the California Solar Energy Industries Association turned to Assemblywoman Jacqui Irwin, D-Thousand Oaks, to author AB 797 to extend it until 2020.
"To meet our statewide climate change goals, especially on the heating side of the equation, we need consistent programs that increase access to the sun for California homes and businesses," said Kelly Knutsen, senior policy adviser for the trade group.
The timing would appear to be particularly strong for extending the rebate program.
A massive leak last year at Southern California Gas' Aliso Canyon facility near Porter Ranch sharply reduced supplies of natural gas locally. Last summer, the call went out to customers to reduce their usage and the Legislature temporarily increased the SoCal Gas rebates for solar water-heating systems for six months. With Aliso Canyon still off line, similar calls for conservation have gone out this year.
But that doesn't mean it's been smooth sailing for the rebate extension bill. Republican lawmakers have voted against it, both in committee and on the Assembly floor. They cited a state audit report from 2014 showing that the program has been largely ineffective in achieving the significant natural gas savings it targeted.
The program was supposed to result in the equivalent of 200,000 single-family residential installations at a cost of $250 million; but only $66 million had been used by this year, according to a legislative analysis of the bill.
Knutsen said that partially in response to the audit, legislators increased the rebate levels in 2015, which has in turn led to a slightly higher rate of customer signups.
For reprint and licensing requests for this article, CLICK HERE.