Local Roots Expands to Ship Out its Farming Containers
Outside In
Friday, June 2, 2017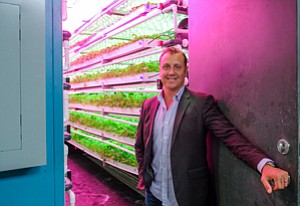 Local Roots Farms has been sowing more seeds in Vernon's industrial landscape in a move to grow its unusual approach to agriculture.
The indoor farming company, which designs, builds, and operates indoor growing centers, called TerraFarms, made from 40-foot-long shipping containers, last month signed a lease for a 60,000-square-foot facility about two miles from its Hampton Street headquarters.
The larger footprint is expected to set it up for an East Coast expansion, one that would send its year-round indoor farms to cold climates, circumventing traditional produce-supply chains.
"We are not only growing food for the L.A. region, we have plans to sell our food all over the country," said Brandon Martin, vice president of business development.
Local Roots' shipping containers-cum-urban farms are insulated, climate controlled, and have recirculating hydroponic watering systems that use 99 percent less water than outdoor farming, he said. The company also has developed a unique LED lighting system that's used atop vertical farming beds.
It has thus far built eight TerraFarms, and plans to increase that number to 48 with the expansion. Of those, 25 would be deployed to Washington, D.C., in the next six to 12 months.
The production output of one TerraFarm is equivalent to 5 acres of agricultural land, and crop yields take a much shorter time, Martin said.
A single TerraFarm harvests about 4,000 heads of lettuce every 10 to 12 days and grows a seed to a full head of lettuce in 30 days, he said. Conventional outdoor farming takes 60 to 70 days and can be delayed by weather conditions.
The company grows arugula, Italian basil, butterhead lettuce, baby kale, and a spring mix for commercial production. Crops planned for future TerraFarms include beets, broccoli, cabbage, cilantro, and cucumber.
The company calls itself an agriculture business where its produce, and not its technology or containers, are for sale.
"We are in the business of growing and selling healthy food," Martin said. "What we do will provide fresh produce year-round to food deserts and cold climates."
In the L.A. region, the company supplies to local restaurant chains including Tender Greens operator TYP Restaurant Group Inc. and Mendocino Farms Inc. as well as wholesale produce distributors West Central Produce Inc. and LA & SF Specialty. In addition to restaurants and distributors, Local Roots provides to corporate clients including Space Exploration Technologies Corp., or SpaceX, where its leafy greens are consumed by the company's employees.
For reprint and licensing requests for this article, CLICK HERE.
Prev Next
Stories You May Also Be Interested In