Business Leaders Head in, Out of D.C.
Patrick Soon-Shiong joins panel at Paul Ryan's behest; Elon Musk, Robert Iger resign over climate.
Friday, June 2, 2017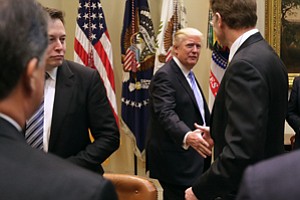 Three of L.A.'s most influential business leaders went through a political revolving door in Washington, D.C., last week.
First, House Speaker Paul Ryan named billionaire surgeon and cancer researcher Patrick Soon-Shiong to an advisory committee on health care information technology.
Then a day later, Elon Musk, founder and chief executive of Space Exploration Technologies Corp. and Tesla Inc., and Robert Iger, Walt Disney Co. chief executive, announced they were stepping down from their posts on advisory panels to President Donald Trump in protest of his decision to take the United States out of the Paris climate agreement, announced Thursday.
The president had appointed Musk to his manufacturing job council and the strategic and policy forum. Iger had been named to the business advisory council.
"Am departing presidential councils," Musk tweeted. "Climate change is real. Leaving Paris is not good for America or the world."
A short time later, Iger tweeted, "As a matter of principle, I've resigned from the President's Council over the #ParisAgreement withdrawal."
Soon-Shiong last week confirmed his appointment to the Health Information Technology Advisory Committee, which was first reported by Politico.
"It is an honor to have been asked to serve on this committee," Soon-Shiong said. "I view this as an opportunity to transform the delivery of health care and try to get high-quality outcomes at lower cost."
Soon-Shiong is one of eight congressional appointees to the 25-member committee, which was authorized under a law signed in December by former President Barack Obama. The committee's job is to advise presidential administrations on the growing role of information technology in health care.
Soon-Shiong, who again last month topped the Business Journal's list of Wealthiest Angelenos with a net worth of $18 billion, helms NantWorks, a group of bioscience research companies with a central focus on combatting cancer.
Musk, who like Soon-Shiong was born in South Africa, was No. 2 on the Wealthiest Angelenos list with a net worth of $14.2 billion.
– Howard Fine and Garrett Reim
For reprint and licensing requests for this article, CLICK HERE.