Trader Joe's Yet to Join Rivals in Push for Delivery, Online Services
Sold on Stores
Friday, July 21, 2017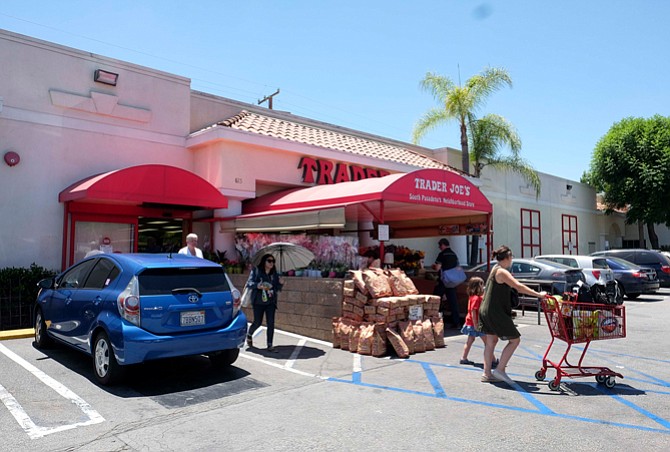 The chain sold its first Trader Joe's-branded product in 1972, according to its website. Selling in-house brands benefits both stores and consumers, experts said.
The store is able to generate better profit margins by working directly with a manufacturer or supplier, since it doesn't have to give a cut of sales to a brand owner. It can also pass the savings to the customer – something Trader Joe's underlines in its brand messaging.
Successful in-house brands create loyalty with customers because they can only be purchased in that store, according to Phil Lempert, chief executive of Santa Monica industry research firm Supermarket Guru. Customers have become more willing to buy store-branded products since the recession, he said.
Stores, in turn, have been increasing the quality of their in-house products.
"Today a lot of store brands are equal to or higher quality (than the national brands)," Lempert said. "Customers love it because they save money, it's great quality and, in certain cases, it's a new food."
German grocer Lidl, which opened its first U.S. stores last month and sells mostly in-house branded products, could pose a threat to Trader Joe's, said Tab's Jetta.
At your doorstep
Many grocers are banking not only on in-house branded products, but delivery as well.
Commerce-based warehouse grocery store Smart & Final has been increasing offerings of its First Street brands and also testing delivery for business customers by partnering with Instacart, Chief Executive David Hirz said earlier this year.
"We want to make sure enough customers are interested," Hirz said.
Starting a delivery service requires capital with no guarantee of return. However, Hirz and other industry executives and analysts believe that stores will eventually have to bring their delivery service in-house.
"If somebody other than your employee (is delivering), you're losing control of your communication with the customer," Hirz said. "If I don't like the tomatoes you picked, I'm going to blame Smart & Final. Consumers don't care who brought it, it's who they're buying it from."
Whole Foods began partnering with Instacart in 2014, although that relationship might change with its proposed $13.7 billion sale to Amazon, which launched its grocery delivery service, Amazon Fresh, in Seattle in 2007.
A Whole Foods spokeswoman said the company continues to work with Instacart and didn't have any announcements to make about future plans for online ordering or delivery.
Having Whole Foods' more than 400 physical locations will make the logistics of delivering meat and produce easier and cheaper for Amazon Fresh, said Supermarket Guru's Lempert.
Amazon customers can now order 500,000 items for same-day delivery, the company said.
Bob Reeves, vice president at industry publication the Shelby Report, said he wouldn't be surprised if Trader Joe's is looking into online ordering, given the changing environment. The chain would probably start with having its employees put together orders for customers to pick up at the store, given the company's preference for keeping tight control over operations.
"Everything I've heard and read has been if you're not at least looking (at online delivery), you're going to be really falling behind the curve," Reeves said. "I would think Trader Joe's is smart enough to see the potential there for them."
Prev Next
For reprint and licensing requests for this article, CLICK HERE.