Children's Hospital Los Angeles Receives $3 Million Investment
Friday, July 21, 2017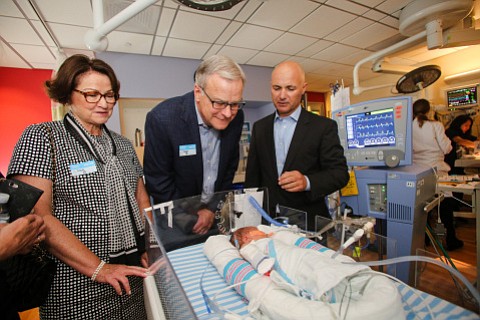 Children's Hospital Los Angeles has received a $3 million investment from philanthropists Teresa and Byron Pollitt for an endowed chair position as the director of CHLA's Fetal and Neonatal Institute.
The donation completes a $5 million endowment, which will be named the Teresa and Byron Pollitt Family Chair in Fetal and Neonatal Medicine in their honor.
Fetal and Neonatal Institute co-director Philippe Friedlich will be the inaugural holder of the chair.
"We are honored by the generosity of the Pollitt family, which will permit expert clinicians at Children's Hospital Los Angeles to save the lives and improve the health of more premature infants and neonates," CHLA President and Chief Executive Paul S. Viviano said in a statement. "We are gratified that our mission has inspired them to help us provide brilliant futures for our patients, for generations to come."
The Pollitt Family Endowed Chair will support Friedlich and his team in multiple areas of research, training and clinical care.
Reporter Natalie Hoberman can be reached at nhoberman@labusinessjournal.com. Follow her on Twitter @hobermannatalie.
For reprint and licensing requests for this article, CLICK HERE.