Replacement Meal Maker Soylent Whips Up 7-Eleven Deal
Wednesday, July 19, 2017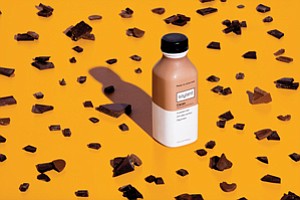 Downtown manufacturer Rosa Foods Inc. will sell its line of Soylent meal replacement drinks in brick-and-mortar stores this month for the first time, the company has announced.
The deal to sell three of the company's soy-based beverages in 18 Los Angeles County 7-Eleven Inc. stores is a test for a national rollout, Rosa said in a press release. Up until now, Soylent was only available through the company's website and Amazon.com.
"It is exciting that the demand for our breakthrough line of drinkable meals has moved beyond e-commerce," Rob Rhinehart, Rosa's chief executive, said in a statement. "This new collaboration with 7-Eleven will make Soylent an even better option for customers looking for convenience without sacrificing their health."
The company sells its meal replacement drinks in bottles or as a gray-brown dissolvable powder it says is packed with all of the essential nutrients a person needs to survive. A dozen 14-ounce bottles cost $39 through the company's website. The suggested retail price for individual drinks will be $3.99, according to a Soylent spokeswoman.
The product line has expanded since it launched in 2013 to include chocolate, coffee and fruit flavors as well as a protein bar.
Rhinehart said in May that the company planned on expanding into retail stores after raising a $50 million Series B round led by GV (Google Ventures) with participation from Tao Capital Partners and prior investors Lerer Hippeau Ventures and Andreessen Horowitz.
"We have a series of partnerships in the works, from convenience stores to large distribution outfits, but ultimately we want Soylent in the hands of as many people as possible," Rhinehart said in an email at the time. "Our products should be as easy to buy as a cup of coffee."
7-Eleven, which is based in Irving, Texas, and calls itself the largest U.S. chain of convenience stores, plans to sell single servings of the drinks at the 18 franchise locations, according to the press release.
Todd McFarland, 7-Eleven senior product director, said in a statement that Soylent is "a differentiated product for the on-the-go … millennial."
Rhinehart created Soylent in 2013 in an attempt to make a more efficient food source, according to the company.
The distribution deal and funding round come after a year in which Rosa experienced a fair share of hiccups, including two product recalls, one of which resulted in some customers falling ill. However, product recalls don't appear to concern recent investors or to have slowed the company's ambitions.
Retail and hospitality reporter Caroline Anderson can be reached at canderson@labusinessjournal.com. Follow her on Twitter @Caroline_Mander.
For reprint and licensing requests for this article, CLICK HERE.