Los Angeles, Long Beach Ports Clean Air Action Update Could Cost $14 Billion
Wednesday, July 19, 2017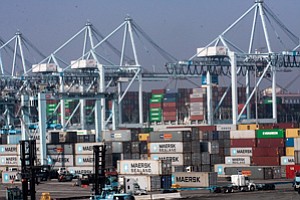 Implementing goals of having only zero-emission vehicles and cargo handling equipment by 2035 will cost the ports of Los Angeles and Long Beach $7 billion to $14 billion, according to the ports' Clean Air Action Plan update released Thursday.
The plan, called CAAP, lays out strategies that seek to address the challenge of reducing harmful emissions from port-related sources including ships, trucks, cargo handling equipment, locomotives and harbor craft, port officials said.
"Based on what we've already accomplished to promote healthy, robust trade through our gateway, we're ready to make history again, looking at a new array of technologies and strategies to further lower port-related emissions in the decades ahead," Gene Seroka, executive director at Port of Los Angeles, said in a statement.
The ports have worked together since 2006 to address the region's air pollution, drastically cutting diesel pollutants with the roll-out of the Clean Trucks Program in 2008. The communities around the ports have higher rates of asthma and respiratory issues than the rest of Los Angeles County.
The new update in the decade-long plan asks that the entire trucking fleet, currently numbering 16,000, be converted to zero-emission vehicles. While some trucking companies have converted to alternative fuels in previous years, finding commercially viable trucks remains a challenge.
The plan also calls on cargo handling equipment used to load and unload containers to be zero-emission and for the ports to grow pollution-reducing programs for emissions sources, including rails and ships.
Related Link: Clean Air Plans Cast Cloud Over Business at Ports
The ports said they will need state and federal funding to accomplish their goals, but that they will pick up some of the expense. Costs are also expected to be passed on to terminal operators and freight owners.
The update comes after the ports reviewed comments from supply chain stakeholders and community groups after a first draft was released last fall.
A public comment and review period for the CAAP update will take place until Sept. 18, and both port's Harbor Commissions are expected to vote on the plan later in fall.
Manufacturing and trade reporter Shwanika Narayan can be reached at snarayan@labusinessjournal.com. Follow her on Twitter @shwanika.
For reprint and licensing requests for this article, CLICK HERE.