Replacement Meal Maker Whips Up 7-Eleven Deal
FOOD: Rosa to sell formerly online-only Soylent in stores to prep for national rollout.
Friday, July 14, 2017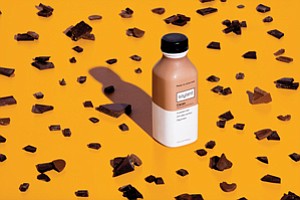 Downtown manufacturer Rosa Foods Inc. will sell its line of Soylent meal replacement drinks in brick-and-mortar stores this month for the first time, the company has announced.
The deal to sell three of the company's soy-based beverages in 18 Los Angeles County 7-Eleven Inc. stores is a test for a national rollout, Rosa said in a press release. Up until now, Soylent was only available through the company's website and Amazon.com.
"It is exciting that the demand for our breakthrough line of drinkable meals has moved beyond e-commerce," Rob Rhinehart, Rosa's chief executive, said in a statement. "This new collaboration with 7-Eleven will make Soylent an even better option for customers looking for convenience without sacrificing their health."
The company sells its meal replacement drinks in bottles or as a gray-brown dissolvable powder it says is packed with all of the essential nutrients a person needs to survive. A dozen 14-ounce bottles cost $39 through the company's website.
The product line has expanded since it launched in 2013 to include chocolate, coffee and fruit flavors as well as a protein bar.
Rhinehart said in May that the company planned on expanding into retail stores after raising a $50 million Series B round led by GV (Google Ventures) with participation from Tao Capital Partners and prior investors Lerer Hippeau Ventures and Andreessen Horowitz.
"We have a series of partnerships in the works, from convenience stores to large distribution outfits, but ultimately we want Soylent in the hands of as many people as possible," Rhinehart said in an email at the time. "Our products should be as easy to buy as a cup of coffee."
7-Eleven, which is based in Irving, Texas, and calls itself the largest U.S. chain of convenience stores, plans to sell single servings of the drinks, according to the press release.
Todd McFarland, 7-Eleven senior product director, said in a statement that Soylent is "a differentiated product for the on-the-go … millennial."
Rhinehart created Soylent in 2013 in an attempt to make a more efficient food source, according to the company.
The distribution deal and funding round come after a year in which Rosa experienced a fair share of hiccups, including two product recalls, one of which resulted in some customers falling ill. However, product recalls don't appear to concern recent investors or to have slowed the company's ambitions.
Sweet Tenant
Rick Caruso's eponymous real estate development company announced this month that Santa Barbara ice-cream maker McConnell's Fine Ice Creams is the latest tenant to sign up for the company's new Pacific Palisades retail complex. McConnell's, which also sells its pints wholesale through retailers including Whole Foods Market Inc., already has one Santa Barbara location and three L.A. outposts, according to its website.
Other Palisades Village Project tenants already announced include Cinepolis Luxury Cinemas, Vintage Grocers and Bentons Sports Shop.
The development company, Caruso, which also built the Grove and the Americana at Brand shopping malls, expects the Palisades Village Project to open next summer, it said in a press release.
The approximately 125,000-square-foot development project on Sunset Boulevard and Swarthmore Avenue has faced fierce opposition from some residents and local business owners. Nonetheless, the Los Angeles City Council approved the project last summer.
Caruso, which is headquartered at the Grove, announced in a separate press release on the same day that it had hired Nancy Murray to oversee all of the company's corporate communications, consumer public relations, and digital and brand marketing. A former communications executive at Louis Vuitton Americas, Murray cited the Pacific Palisades Project in explaining why she signed up at Caruso.
"I am joining the organization at a pivotal time given the extraordinary projects on the horizon, namely Palisades Village and Miramar Beach, as I lead the communications efforts on both projects in addition to the existing portfolio," she said in a statement.
The Miramar Beach project is a $200 million resort in Montecito that the company expects to open next year.
Caroline Anderson can be reached at canderson@labusinessjournal.com or (323) 556-8329.
For reprint and licensing requests for this article, CLICK HERE.