Shifting Sands
State bill looks to sink Cadiz's aquifer project with final OK in sight.
Friday, July 14, 2017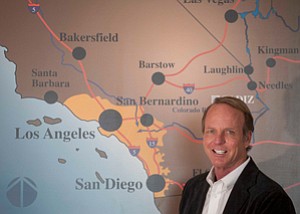 A new state bill could dry up Cadiz Inc.'s desert water project just as the downtown company thought it was in the home stretch of getting government approvals and fending off challenges.
Assemblywoman Laura Friedman, D-Glendale, has completely overhauled a bill that she introduced earlier this year, AB 1000, inserting provisions to require another California government agency to approve groundwater pumping in desert areas near protected lands or sensitive habitats. The new language specifically targets Cadiz's project.
"It's unheard of for a bill to so specifically target a single project, especially one that has already been through two government approvals and had 12 favorable court decisions," Cadiz Chief Executive Scott Slater said last week.
The bill, which was introduced July 5 and cleared the state Senate Natural Resource and Water Committee last week, represents a last-ditch effort by project opponents to stop the water-pumping project before final federal approval is granted for a pipeline.
Friedman left no doubt that her amended bill is targeting Cadiz.
"California must protect its land and water in the face of dangerous threats such as the Cadiz water mining project, which would drain 16 billion gallons of water each year from the Mojave Desert," she said in a statement introducing the amended bill. "There is no time to waste in saving this picture-postcard landscape."
She also noted that the project has emerged as a top infrastructure priority for the administration of President Donald Trump and called the president's support for the project a threat to the California desert.
Slater said this is a clear attempt to tap into anti-Trump sentiment in Sacramento.
"This is a political tactic from people who are dissatisfied with the outcomes of the legitimate regulatory and judicial processes," he said. "What they are saying is: Nobody in California likes Trump; we're going to paint this project with the moniker that this is a Trump project. Because he likes it, we will oppose it."
Slater noted the project was never a product of the Trump administration; rather, it was presented to the administration by a group of building trade unions eager for jobs for their members.
Larry Kosmont, a longtime observer of the Cadiz project who was on the board of the Metropolitan Water District of Southern California in 2001 when an earlier version of the proposal came before that agency, said Friedman's bill is a desperate move by opponents.
"It's a last-ditch effort to throw a body in front of the vehicle to stop it," said Kosmont, chief executive of Manhattan Beach economic development consulting firm Kosmont Cos.
For reprint and licensing requests for this article, CLICK HERE.
Prev Next