Shifting Sands
State bill looks to sink Cadiz's aquifer project with final OK in sight.
Friday, July 14, 2017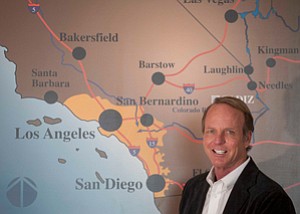 A new state bill could dry up Cadiz Inc.'s desert water project just as the downtown company thought it was in the home stretch of getting government approvals and fending off challenges.
Assemblywoman Laura Friedman, D-Glendale, has completely overhauled a bill that she introduced earlier this year, AB 1000, inserting provisions to require another California government agency to approve groundwater pumping in desert areas near protected lands or sensitive habitats. The new language specifically targets Cadiz's project.
"It's unheard of for a bill to so specifically target a single project, especially one that has already been through two government approvals and had 12 favorable court decisions," Cadiz Chief Executive Scott Slater said last week.
The bill, which was introduced July 5 and cleared the state Senate Natural Resource and Water Committee last week, represents a last-ditch effort by project opponents to stop the water-pumping project before final federal approval is granted for a pipeline.
Friedman left no doubt that her amended bill is targeting Cadiz.
"California must protect its land and water in the face of dangerous threats such as the Cadiz water mining project, which would drain 16 billion gallons of water each year from the Mojave Desert," she said in a statement introducing the amended bill. "There is no time to waste in saving this picture-postcard landscape."
She also noted that the project has emerged as a top infrastructure priority for the administration of President Donald Trump and called the president's support for the project a threat to the California desert.
Slater said this is a clear attempt to tap into anti-Trump sentiment in Sacramento.
"This is a political tactic from people who are dissatisfied with the outcomes of the legitimate regulatory and judicial processes," he said. "What they are saying is: Nobody in California likes Trump; we're going to paint this project with the moniker that this is a Trump project. Because he likes it, we will oppose it."
Slater noted the project was never a product of the Trump administration; rather, it was presented to the administration by a group of building trade unions eager for jobs for their members.
Larry Kosmont, a longtime observer of the Cadiz project who was on the board of the Metropolitan Water District of Southern California in 2001 when an earlier version of the proposal came before that agency, said Friedman's bill is a desperate move by opponents.
"It's a last-ditch effort to throw a body in front of the vehicle to stop it," said Kosmont, chief executive of Manhattan Beach economic development consulting firm Kosmont Cos.
Long road
Indeed, Cadiz has been trying for a quarter-century to get approvals to store, pump and transfer water from an aquifer beneath its 45,000-acre holdings in the Cadiz Valley east of the Twentynine Palms Marine Corps Air Ground Combat Center in the Mojave.
The company initially planned to store more than 1 million acre-feet of water in the aquifer and be allowed to sell up to 1 million acre feet of water a year and sought a 50-year deal with the Metropolitan Water District that could have brought the firm an estimated $1 billion in revenue. But that plan ran into stiff opposition from environmental groups and U.S. Sen. Dianne Feinstein, who all said drawing that much water from the aquifer would harm the desert ecosystem. The MWD board rejected the plan in 2002.
The company came back in 2009 with a scaled-down project and has signed agreements of 30 to 50 years with six California water agencies to pump up to 50,000 acre-feet of water annually out of its aquifer. The water would then go through a pipeline to the MWD-owned Colorado River Aqueduct and then on to 400,000 customers of those water agencies.
Cadiz has pegged construction costs at about $300 million.
Slater declined to discuss specific revenue or earnings targets.
This second plan received environmental approvals four years ago and survived numerous legal challenges from environmental groups that said pumping out groundwater would impact the desert ecosystem. The last of those challenges was exhausted last year when the state Supreme Court denied an appeal.
Environmental groups saw a new chance to challenge the project when the federal Bureau of Land Management in October 2015 unexpectedly blocked Cadiz from receiving a routine approval for its pipeline, thus requiring another complete environmental review and several more years of waiting for a final bureau determination.
But the administration of President Donald Trump placed the Cadiz project on its priority list of infrastructure projects within days of taking office. The Bureau of Land Management a few months later rescinded its decision to block the pipeline approval, clearing the way for the agency to give its final OK.
Cadiz announced at about the same time that it had lined up $255 million in construction financing from giant New York private equity firm Apollo Global Management.
A BLM approval would have left as a final hurdle negotiations with the Metropolitan Water District over the price Cadiz and the local water agencies would pay to transport water through the aqueduct to customers.
New challenge
Then came the bill from Friedman, using a controversial process called "gut-an-amend," which allows an existing bill to have its provisions stripped and replaced with completely different provisions.
The bill as originally introduced dealt with water meters, and that version passed the state Assembly in May. But Friedman abruptly changed the language to require that for any water-pumping project near federal and state lands that contain sensitive natural and cultural resources, the State Lands Commission in consultation with the Department of Fish and Wildlife must certify that the pumping of water would not affect those resources.
The bill has support from Feinstein and several environmental groups, including the Center for Biological Diversity of Tucson, Ariz.
"The Trump administration has put the Cadiz money-making scheme at the top of its infrastructure priority list. California legislators can stop it," said Ileene Anderson, senior scientist with the center. "We know California lawmakers have the courage and foresight to stand up for the state's residents, wildlife, public lands and precious water."
Cadiz issued a statement opposing the bill and pulled together a coalition of water agencies and business, labor and nonprofit groups against the legislation.
Slater, a lawyer specializing in water and environmental law, said in an eight-page letter to the Senate Natural Resource and Water Committee that by seeking to overturn approvals for the project already granted by government agencies, the bill violates fundamental tenets of the California Environmental Quality Act.
Nonetheless, the committee passed the bill on a 7-2 vote; the bill will next be heard by the Senate Appropriations Committee, likely next month. If it passes the full Senate, it must still go back to the Assembly, since that body previously voted on an entirely different version.
Slater said that if the bill passes and is signed into law by Gov. Jerry Brown, Cadiz would likely challenge it in court.
The company's shares dropped 5 percent to $12.50 the week the bill was introduced and have traded around $12.50 since then.
For reprint and licensing requests for this article, CLICK HERE.