Soon-Shiong Set to Open El Segundo Cancer Clinic on July 11
Monday, July 10, 2017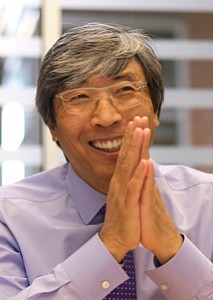 Billionaire biotech magnate Patrick Soon-Shiong is set to open an oncology clinic in El Segundo on July 11 as part of a push into the health care provider space.
The Chan Soon-Shiong Institute for Medicine in El Segundo will be co-directed by John Lee and Lennie Sender. Both Lee and Sender joined Soon-Shiong's NantKwest in 2016. The facility is designed to support Soon-Shiong's vision of a cancer treatment center using his proprietary immune-oncology assessment and treatment tools developed over the last decade.
He told the Business Journal in May that he intends to launch a series of cancer treatment clinics in California, but said he has to roll the program out slowly because it requires retraining doctors.
"We need to manage this very carefully, because it's a completely new concept," SoonShiong said. "We need to make sure we have the right physicians that are well-trained in this. It's like relearning cancer treatment from day one, and I need to have very experienced, highly qualified oncologists that understand quality care."
The El Segundo facility opening is the latest development into Soon-Shiong's march into the health care provider space. Last week his NantWorks umbrella company, based in Culver City, acquired Integrity Healthcare, parent company of Redwood City hospital operator Verity Health.
NantWorks paid an undisclosed sum for Integrity's hospital chain, which includes the St. Vincent Medical Center in downtown. Integrity has 6,000 employees and 1,650 patient beds.
Deals & Dealmakers reporter Henry Meier can be reached at hmeier@labusinessjournal.com. Follow him on Twitter @henry_meier.
For reprint and licensing requests for this article, CLICK HERE.