Snap Decisions
INVESTMENT: Will tech giant Snap Inc. fight suits to clear IPO path?
Friday, January 27, 2017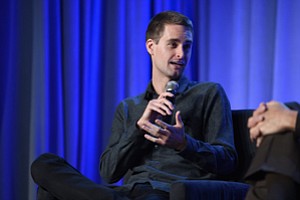 As Snap Inc. moves closer to an expected initial public offering this spring, the Venice photo-sharing company is going through a rite of passage: defending itself against a slew of legal actions.
Lawsuits filed in the last sixth months include an array of complaints targeting the company behind the popular Snapchat app, including claims that parts of the tech unicorn's underlying product infringe on patent holders' intellectual property as well as allegations from a former executive that the company inflated user-growth statistics.
While the claims have to be taken seriously by Snap, they are in some ways not surprising. Becoming a target of increased legal action in the run-up to an IPO is all too common, particularly for companies, such as Snap, that are expected to be worth many billions of dollars.
"An initial public offering is like putting a bull's-eye on your back," said Lloyd Greif, chief executive of downtown investment bank Greif & Co. "You can call it legal extortion or you can call it justified claims, but these cases – especially litigation that attacks Snapchat's intellectual property – are designed to unnerve investors."
Snap executives, including co-founder and Chief Executive Evan Spiegel, will have to decide whether they want to fight the suits or settle out of court in order to have a clean slate going into the home stretch of their pre-IPO roadshow.
While the first instinct of many startup founders is to litigate, that's not always the right move, according to David Andersen, a partner at Santa Monica law firm Bryan Cave who works with early stage companies.
"Unfortunately, principles are expensive," he said. "Everyone wants to stand up for their principles, but our legal system doesn't reward that. Often it's not the right thing to do."
In at least one case, Snap appears to have exercised some caution. The firm reportedly settled a lawsuit confidentially last month that alleged Snapchat's Discover platform exposed minors to explicit content. The suit, filed in July by Mark Geragos of downtown's Geragos & Geragos, claimed the company was liable for the content posted by affiliates and that it did not do enough to enable parental controls that would filter potentially objectionable content. Snap also made changes to its Discover content guidelines last week, restricting content posted by partners that proves to be misleading and explicit.
That doesn't mean Snap is rolling over for everyone with a bone to pick.
For reprint and licensing requests for this article, CLICK HERE.
Prev Next