Big Fan of China
City of L.A. got jump on tourism efforts in 2006 with overseas office
Friday, January 27, 2017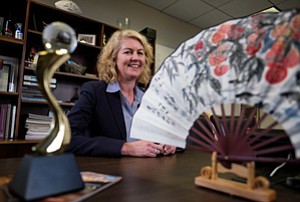 Until a couple of years ago, the maps most frequently picked up at the J. Paul Getty Museum in a language other than English were in French and German.
Now, Chinese has surpassed those European mainstays, said David Singleman, the museum's group and tourism coordinator.
The change represents a dramatic increase in Chinese tourists to Los Angeles over the past decade.
"They have such a pent-up desire to travel," Singleman said.
Last year, Los Angeles County welcomed more than 1 million Chinese visitors, beating out San Francisco and New York, the Los Angeles Tourism and Convention Board announced this month.
The board, based in downtown, foresaw this potential tourism boom years earlier as China was loosening its travel restrictions. Los Angeles became the only U.S. city to get a license to market directly to Chinese residents in 2006, opening its first office there. The tourism board now plans to open its fourth Chinese outpost, in the city of Chengdu, in May with the hope of expanding into the market even further.
"When you look at China then and now, the Los Angeles tourism board's timing couldn't have been more spot on," said Kathryn Smits, vice president of international tourism at the board, which is the city's official direct marketing organization. "Based on the sheer size of China, it was the perfect timing to get there from the ground up. The market just keeps growing."
The tourism board's eight employees at its offices in Beijing, Shanghai, and Guangzhou, staffed by Chinese nationals, focus on pitching Los Angeles as a destination to travel agents and tour operators. They try to get the city featured in Chinese media, as they did with webisode series "It Takes Entertainment to Travel," which got millions of views in China, and maintain accounts on big Chinese social media platforms WeChat and Weibo.
The China team also helps the tourism board work with airlines to increase direct flights from locations including Chengdu, which has a population of almost 8 million.
Their efforts helped make Chinese visitors the second-largest group of international tourists in Los Angeles last year, behind only Mexicans. The county of Los Angeles hosted 47.3 million tourists in total last year, including 7.1 million international visitors.
Chinese visitors also stayed longer and arrived in larger groups than their counterparts from other countries. They stayed 7.3 nights versus the average 6.5 for other overseas travelers, and on average came in groups of 2.4 people versus the overall average of 1.9, according to the tourism board.
Direct spending in Los Angeles by Chinese visitors was $1.3 billion in 2015, the board said. That number is expected to grow as the Chinese middle class and discretionary spending increases.
Seeing opening
China wasn't the first country where the tourism board decided to launch a foreign outpost. At the time, it had offices in Tokyo and London.
Then-Mayor Antonio Villaraigosa saw an opportunity in 2006 as China was preparing to lift restrictions on leisure travel to the United States, opening L.A.'s first tourism office there during a historic trade mission.
The tourism board hoped its Beijing operation would help capitalize on what was predicted to be a flood of Chinese travelers around the world. At the time, Chinese visitors to Los Angeles numbered just 110,000 a year.
The move was a culmination of a long courtship by mayors going back to Tom Bradley, according to Steven Cheung, World Trade Center Los Angeles president.
"Previous mayors – Bradley, (James) Hahn, (Richard) Riordan – all had government-to-government relationships," said Cheung. "You can't just go in there and expect to do business."L.A.'s success with Japanese visitors, who used the city as a gateway to the United States when travel picked up in the 1980s, also helped pave the way, said Smits.
The Chinese middle class has grown since L.A.'s initial outreach, leading to an increase in travel. In 2006, almost 41 million Chinese traveled overseas, according to the China National Tourism Administration, compared with a projected 120 million last year.
Los Angeles has a natural advantage over chief rival New York because of its proximity to Asia, both Smits and Cheung said. The attraction of Hollywood also looms large in China, which is soon expected to become the world's largest box-office market. Tours of movie studios provide a competitive advantage over attractions in San Francisco.
In addition, the infrastructure of Los Angeles International Airport gives it the capacity to handle increasing numbers of flights from China.
Chinese investment in L.A. companies and Chinese students at USC and UCLA have also fed the influx to the city.
An agreement in 2014 between the United States and China extended business and tourist visas for each other's citizens from one to 10 years, reducing the need to visit an embassy to apply for a visa and application fees.
New markets
The tourism board sees great potential not only in its Chengdu bureau but elsewhere in Asia and beyond.
Chengdu, which has a population twice that of the city of Los Angeles, has the third-highest source of potential outbound travelers after Beijing and Shanghai, according to the board. It also has the third-highest amount of average weekly seats for direct flights to LAX.
Chengdu also stands to benefit from the Silk Road Initiative, a $1 trillion plan of the Chinese government to revive trade over the historic route, said Cheung. Its location along the route could be an advantage, bringing more money into the city and sending more tourists to Los Angeles.
"If Chengdu becomes a central point of connection in China, that city is going to boom like there's no tomorrow," he said.
The tourism board hasn't announced any more Chinese offices, though Smits said she wouldn't be surprised if it did. Now it's working on Scandinavia, whose citizens prefer to travel during L.A.'s off-season, and India.
"The big question for us," Smits said, "is India where China was 10 years ago and where we should start putting our resources?"
For reprint and licensing requests for this article, CLICK HERE.