Arts District industrial property owners sold on big paydays
Friday, January 27, 2017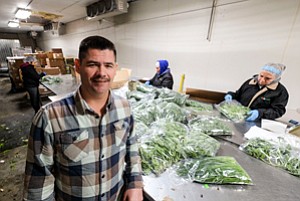 Dante Cardenas packages his oregano, sage, beets, and radishes in Vernon, but just a few years ago he ran his business, E.D. Produce Inc., out of a low-slung warehouse in the Arts District. He sold the 9,900-square-foot space in 2014, once he realized its value had quadrupled over the $1 million dollars he paid for it just a few years previously.
"It's better for me to have something that I can leave for the future, perhaps to my children," Cardenas said in Spanish. "Now, I have no thoughts of moving. We're doing very well here."
The property value is not likely to multiply as it did in the Arts District, but there are other benefits to fleeing the hubbub of the fast-developing downtown neighborhood, with its apartments, offices, and eateries. His was among several companies that have taken flight to industrial centers in Vernon, Commerce, the City of Industry, and South Los Angeles.
"The location became challenging," said Jae Yoo, a senior vice president at CBRE who marketed Cardenas' warehouse. "It's not only because the trucks have to compete against people walking on the streets, which becomes a danger and a liability. What they're doing is thinking about the future."
As property owners look ahead, many are landing fat paychecks from developers keen on razing or redeveloping old warehouses, while lessees are finding themselves forced out.
"We've seen such a dramatic increase in value, that for a lot of these companies it's very difficult for them to not consider selling," said Chris Beck, a managing director at Newmark Grubb Knight Frank who represents industrial clients. "When you're looking at $300, $400, $500 a square foot, those numbers are astronomical. … A lot of folks that don't need to be right in the immediate area say, I might as well cash out and operate my business somewhere else."
Changing times
The cluster of warehouses between central downtown and the Los Angeles River cropped up in the late 1800s, catering to local growers of grapes, oranges, and grapefruit. Manufacturers began turning out clothing, furniture, car parts, and baked goods as the country industrialized in the early 1900s.
After World War II, some companies ditched downtown for modern facilities in places such as Vernon. By the 1970s, artists homed in on the vacant buildings. The area just east of Little Tokyo picked up the "Arts District" moniker in the mid-'90s, not long before Los Angeles passed the Adaptive Reuse Ordinance, allowing developers to transform old commercial buildings into apartments and condos.
For reprint and licensing requests for this article, CLICK HERE.
Prev Next