L.A. City Council Authorizes Signing of Host City Contract for 2024 Summer Olympics
Wednesday, January 25, 2017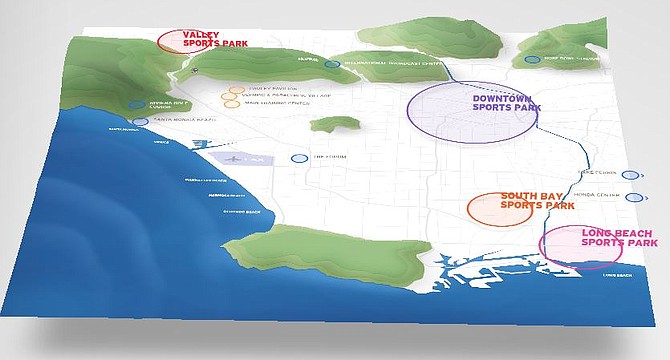 The Los Angeles City Council Wednesday voted unanimously to authorize the signing of the host city contract with the International Olympic Committee should the city win the bidding to host the 2024 Summer Olympic and Paralympic Games.
If the city signs the host city contract, it would be committed to covering some of the cost overruns should the costs to mount and host the events exceed the proposed $5.3 billion budget for the Olympics. The state of California has also committed to provide $250 million in contingency funding in the event of cost overruns.
The city faced a Feb. 3 deadline to make this commitment part of its final bid submission to the International Olympic Committee. That committee will meet Sept. 13 in Lima, Peru to select the host city for the 2024 Summer Games. L.A. is competing against Paris and Budapest.
Cost overruns in the billions of dollars have plagued recent Olympic Games events; for example, the London Games of 2012 exceeded the $10 billion budget by 76 percent, yielding a cost overrun of $6.5 billion, according to the Oxford Olympic Study 2016.
Los Angeles officials expressed confidence during and after Wednesday's council vote that adequate steps have been taken to avoid such massive overruns if Los Angeles were selected to host the games.
In a statement issued after the council vote, Los Angeles Mayor Eric Garcetti said, "The IOC's Host City Contract is our promise that Los Angeles is ready to host an outstanding and fiscally responsible Olympic and Paralympic Games."
Garcetti also noted that this was the 14th unanimous vote the Council has taken to approve various agreements and contracts related to the city's Olympic bid.
Speaking on behalf of the City Council, Herb Wesson, the council president, said in statement, "We are comfortable with the level of protection LA 2024 has built into its plans, and today's unanimous vote reflects that."
Reacting to the vote, LA 2024 chairman Casey Wasserman said in a statement, "LA 2024 has worked hand-in-hand with our partners at City Hall and the US Olympic Committee to create a plan that is perfectly tailored to the aspirations of the New LA. LA 2024's fiscally responsible, 'no surprises' Games plan aligns with the IOC's Olympic Agenda 2020 reforms and has the potential to serve the Olympic Movement long after 2024."
Public policy and energy reporter Howard Fine can be reached at hfine@labusinessjournal.com. Follow him on Twitter @howardafine.
For reprint and licensing requests for this article, CLICK HERE.