E-Tailers Buy In
INTERNET: Digital denizens sold on brick-and-mortar's pull
Friday, January 20, 2017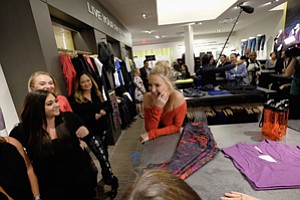 Online retailers, which for years used efficient internet operations to drive brick-and-mortar shops out of business, are bucking conventional wisdom and opening physical stores as part of a strategy to boost sales.
Perhaps the most aggressive local example of this trend is Fabletics of El Segundo, an online yoga clothing retailer co-founded in 2013 by actress Kate Hudson and TechStyle Fashion Group's Co-Chief Executives Don Ressler and Adam Goldenberg. Fabletics, a division of TechStyle, has cut the ribbon on 18 stores since 2015 – a year in which the company reportedly hit $150 million in sales. The company plans to open 12 more stores by the end of this year.
"Since we control all of our distribution, and don't put our product in other retailers' stores, we need a way for customers to touch and feel it," said Dustin Netral, senior vice president of operations at Fabletics. "This is our best way to expose the customer to our brand – what we stand for – and the quality of our product."
Several other L.A. companies born as online retailers are pursuing a brick-and-mortar strategy to drive revenue, including footwear retailer Sole Society of Culver City, linen e-tailer Parachute Home Inc. of Venice, and Arts District artisan home goods retailer Poketo. The emerging trend among local e-commerce businesses parallels the efforts of several bigger online retail companies, including Amazon.com Inc., which has opened brick-and-mortar bookstores in three cities, and eyewear seller Warby Parker, which has launched more than a dozen outlets nationally, including three in Los Angeles.
Physical retail isn't a one-size-fits-all approach, however, as evidenced by the fate of downtown's Nasty Gal Inc. After growing sales to more than $100 million in 2012, the company turned to brick-and-mortar outlets in 2014, around the time its revenue growth started to stall. Despite opening outlets in Hollywood and Santa Monica, the strategy couldn't stop the firm from landing in bankruptcy court in November.
Brick-and-mortar retail is a much different beast than e-commerce and businesses forget that at their peril, said James Dion, president of Chicago retail consulting business Dionco Inc.
"It's a whole different world from setting up a website and having people at desks controlling that website and putting orders to a warehouse," he said. "Retail is a really tough business."
Return policy
While brick-and-mortar stores represent an operational challenge, they do offer something the internet doesn't: an easier way for shoppers – and sellers – to handle returned goods. Customers love having a product shipped to their front door, but loathe the hassle of shipping it back should they need to return it, said Dion, who noted that shipping products back can be costly for both shoppers and retailers. In certain categories, such as shoes, returns generally exceed 35 percent.
Prev Next
For reprint and licensing requests for this article, CLICK HERE.