LA 2024 Summer Olympics Would Generate $11 Billion in Local Economic Impact
Monday, January 9, 2017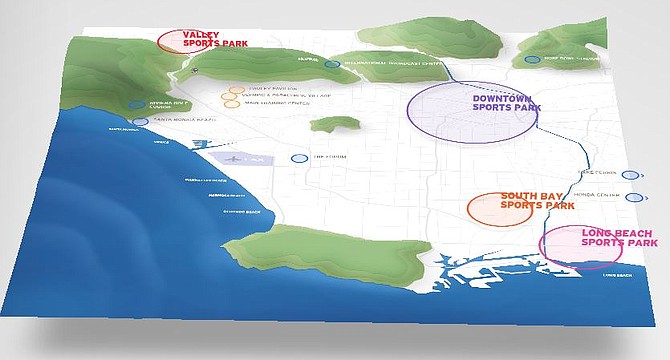 If the 2024 Summer Olympic Games were held in Los Angeles, it would generate $11 billion in local economic impact, according to a study released Monday by the LA 2024 Olympic Organizing Committee.
The study, conducted jointly by UC Riverside and L.A.'s Beacon Economics on behalf of LA 2024, projects the Olympic games would increase economic output by nearly $11.2 billion in the Los Angeles region and $18.3 billion nationwide.
Additionally, in the Los Angeles area, the games would generate up to $167 million in increased tax revenues, up to 79,000 new full-time jobs, roughly $7 billion in direct additional spending, and about $5 billion in increased worker earnings.
"There is little doubt that hosting the Olympics is an enormous boost for a local economy - both in the short term as driven by activity surrounding the events themselves and the long term given how these events raise the global profile of the region," Christopher Thornberg said in a statement. Thornberg is founding partner of Beacon Economics and director of the UC Riverside School of Business Center for Economic Forecasting and Development.
Last month, LA 2024 released a revised budget for the Summer Olympics and Paralympics of $5.3 billion, which the committee said will be offset entirely by revenues from broadcast rights, ticket sales and corporate sponsorships. The budget relies heavily on keeping costs in check through the use of existing facilities.
"LA 2024's fiscally responsible approach has reduced risk for the City of Los Angeles and the IOC," LA 2024 Chairman Casey Wasserman said in a statement. "Now, we are able to quantify some really exciting upsides from LA 2024, with $11 billion in economic activity and a new Olympic job sector equivalent in size to LA's arts and recreation industries combined. And that doesn't count the incredible promotional value of bringing the Games to our city."
Los Angeles is one of three finalist cities remaining in the bidding for the 2024 Summer Olympic and Paralympic Games; the other two are Paris and Budapest. The International Olympic Committee will meet in September in Lima, Peru to select the host city.
Public policy and energy reporter Howard Fine can be reached at hfine@labusinessjournal.com. Follow him on Twitter @howardafine.
For reprint and licensing requests for this article, CLICK HERE.